We've made important strides in instructional design over the last couple of decades and now we're about to take one more momentous step.
We've gone from focusing almost exclusively on content, its clarity, logical sequencing, comprehensiveness, accuracy, and so forth (all important, of course), to focusing on the learner's experience, making it Meaningful, Memorable, and Motivational (again, all critical). While pulling these essential components together, it seems we're still missing something, perhaps the most important component of all. Let's think about what that might be.
Content-Focused Learning
Foundational concepts in our legacy are such notions and techniques as writing instructional objectives, scoping and sequencing content, communicating effectively with words and graphics, demonstrating effective processes, showing worked examples, and providing helpful feedback.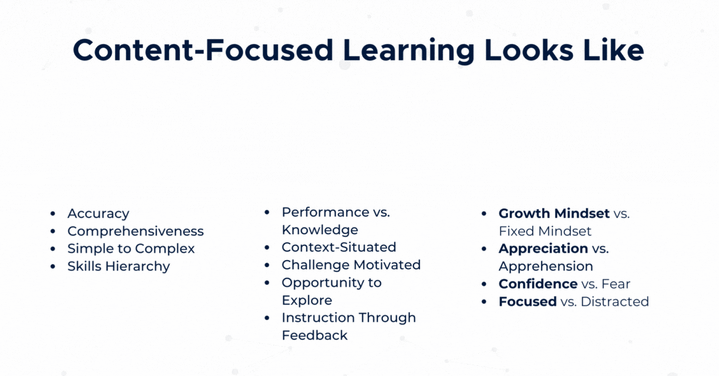 Experience-Focused Learning
The tradition of concentrating on the presentation of information has had an enduring effect on what instructional designers have focused on. At Allen Interactions, we break free from what I and many in the industry refer to as, "tell and test", the process of presenting blocks of content and then testing learners for their recall and comprehension.
We've seen the power of spending time and effort to consider what an optimal learner's experience could be. We've seen the benefits context-situated learning has. Setting a context more vividly conveys how the learning experience is relevant to situations learners may face. A challenge brings energy and involvement to the situation and motivates learners to think, while response recognition capabilities engage learners in activities, and feedback reveals the consequences of what learners did and provides meaningful guidance.
Learner-Focused Training
Moving from a consuming focus on content to giving full attention to learning experiences that create valuable learning outcomes and performance skills has resulted in more productive use of the learner's time and energy. An important step forward to be sure. But can we do even better?
I think the answer is absolutely.
When you think back to the learning experiences you've benefitted from most,

what's the first thing you recall?
Feelings, Self-Efficacy, and Learning
When you think back to the learning experiences you've benefitted from most, what's the first thing you recall? I suspect that you'll first recall how you felt. Excitement? How did it feel to be able to do something difficult? How you and other learners worked together? Some aspects of how you felt. You'll feel a shiver of it before you can even describe it.
Those feelings help us recall experiences and the things we've learned from them. We aren't digital machines; we are more complex than that. We are feeling beings with attitudes and emotions. Our attitudes and emotions, such as self-efficacy, affect how and what we learn. There's a good deal of research support for this (see references below), but we don't really need research to know it's true.
If we are afraid of failure to the extent we focus on it, the probability of failure rises. If we don't think we should have to take training, it's likely we will be minimally engaged and spend much of our time thinking about what other things we could be doing. If we are particularly grateful that training is being offered to us, we are likely to participate with energy and enthusiasm, but perhaps disappointed if we don't learn all we hoped to learn.
Focusing on the range of likely feelings and addressing them―not just at the beginning but throughout the learning journey―results in some significantly different instructional designs and some significantly better outcomes.
Instructional Design for the Learner's Journey: Flip it For Real!
I'll address some of the techniques for designing from the perspective of the Learner's Journey in subsequent blogs. But let's start with this simple and powerful idea: reverse the process. Start defining how you want to address the whole of the learner, including the individual's feelings, attitudes, and current skills. Don't do this as a tack-on that you'll do if you somehow get the time.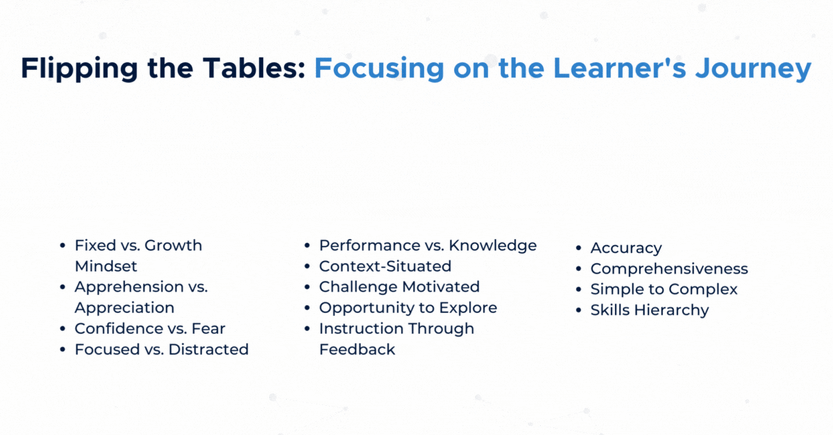 Start with thinking about learners as emotive and cognitive persons first.
Then create context-situated challenges and give learners the opportunity to show what they can do and request help as they may feel they need to.
And finally, when you've created these structures, you'll find you've already got a great framework in which to insert, fully develop, and refine your content.
Let's make every learner's journey a fascinating and enriching experience, from beginning to end.
Read Part 2
Read Part 3
Read Part 4
Read Part 5
References
Artino Jr., A. R. (2012). Academic self-efficacy: from educational theory to instructional practice. Perspect Med Educ. May 1(2): 76–85.
The Science of Learning, Part 3: How Emotion and Mindset Affect Learning.
Dweck, C. S. (2016). Mindset: The new psychology of success. New York: Random House.


---