eLearning Industry recently released a list of eLearning Trailblazers: Industry Thought Leaders Who Have Paved the Way. Allen Interactions Founder and Chairman, Dr. Michael Allen, is listed as one of the thought leaders who have shaped the industry and created a culture of transformation for learners. View the full list >>
"eLearning is an ever-changing landscape thanks to constantly evolving tech, teaching methodologies, and pedagogical breakthroughs. This makes it challenging to keep up with the latest and greatest industry news. Fortunately, there are eLearning trailblazers who make it their mission to help us stay in the know and find the best approach for eLearning development."

-Christopher Pappas, Founder - eLearning Industry
Career highlights and industry awards

Dr. Michael Allen, Founder and Chairman of Allen Interactions, is a recognized leader in the architecture and design of interactive multimedia learning strategies and authoring tools. He has over 45 years of professional, academic, and corporate experience in teaching, developing, and marketing interactive learning and performance support systems. His passion for advancing the Learning and Development industry led to Allen Interactions' CCAF and SAM approaches for iterative, collaborative development. Dr. Allen and his team have had the honor of educating thousands of professionals and organizations about e-learning design and development principles for building true instructional interactivity and performance-changing learning.
He was the innovative force behind Authorware, a leading authoring tool of its time, and the award-winning visual-based authoring and publishing system, ZebraZapps. He has been sharing his knowledge with the industry for more than a decade through nine published books on creating effective e-learning, including the ATD bestseller, Leaving ADDIE for SAM. Dr. Allen is also a contributor and instigator of The Serious eLearning Manifesto, which puts forth a declaration to improve the state of e-learning, helping e-learning professionals regain their creativity and passion for their vocation.
Dr. Allen holds M.A and Ph.D. degrees in educational psychology from The Ohio State University and is an adjunct associate professor at the University of Minnesota Medical School in the Department of Family Medicine and Community Health.
Awards and Industry Recognition
In 2011, he received ATD's Distinguished Contribution to Workplace Learning and Performance Award. Dr. Allen was selected by The National Ethnic Coalition of Organizations (NECO) Advisory Committee as a recipient of the 2012 Ellis Island Medal of Honor. In 2014, the Learning Guild presented Michael Allen with its Guild Masters Award which recognizes an individual for consistently contributing to the e-learning community in both quantity and quality of content.
Q&A: Dr. Allen reflects on 45+ years of industry transformation
The Allen Interactions team recently had the chance to sit down with Dr. Michael Allen to discuss some of the moments that have helped define, inspire, and transform his career as an L&D trailblazer, as well as his ambitions as technology and training innovation continues to rapidly expand.
How does it feel to be recognized as an e-learning trailblazer alongside so many influential names in L&D?
We are so fortunate to have such great leaders in our field—a field that seems to be akin to a child whose rapid physical growth has exceeded coordination and cognitive development (the typical pattern of maturation in children). But it's unfortunate to see it in the field of e-learning.
We owe so much to the industry leaders and I hope that we can have an ever-expanding impact on a field that has many new entrants in the field, doing their best, but so often lacking needed skills and insights that the trailblazers are so willing to share.
It has been nearly two decades since the first edition of Michael Allen's Guide to eLearning was released. What kind of things have changed since the book's conception, and what lessons do you believe have yet to be embraced by the training and learning industry?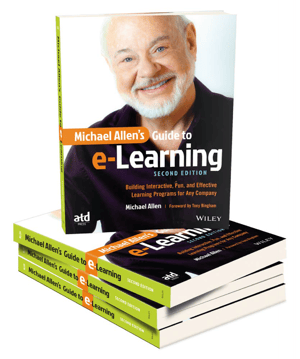 I must begin by thanking all those who have bought my books, nine of them already and another in process. I have enjoyed so many comments from readers who have told me the perspectives and practical tips in my books have changed their methods and design principles, giving them great satisfaction. It's been extremely rewarding.
While those books are foundational, with the hope of helping people move in practical ways away from concentration on content presentation and testing to XEL (experience-based e-learning) with the CCAF model, what's currently got my attention is that we don't give enough (if any) attention to the affective influences on learning. Anxiety, self-efficacy, eagerness, and worries are powerful human states that affect learning. We typically think those are things learners just have to deal with, but when we're sincerely focused on individualized learning, we need to identify and help learners. So, as always, I'm looking for pragmatic ways to do so. That's what my current work on "Designing the Learner's Journey" is all about.
That would be who inspired me, and that's Matt Holt, a senior editor at John Wiley & Sons. While at a conference where I had made a presentation just before I met Matt, I had people come up, two of whom individually cried as we talked, saying they felt they'd learned from my talk why they'd been so dissatisfied with their years of work as instructional designers. They went into detail regarding statements that were startling to them and examples which totally changed their perspectives on what great e-learning was. One of them asked if I'd written a book. He said, "What if you get hit by a bus and all these helpful insights were lost?"
That startled me, but I laughed it off. Imagine how my mind went into a spin when I met Matt Holt at breakfast the next day, who made a pitch to me to write for Wiley & Sons. I was prepared to say I was really far too busy to do that, but he said, "You know, you could get hit by a bus tomorrow and who would be sharing all your great ideas?"
Bam. I wondered what other people knew about me and a bus that I didn't know. So I started writing. Nine books later, I'm still writing.
What are your personal ambitions in shaping the future of e-learning and learning technology?
In many ways, they are the same ones I've been pursuing for decades. For me, the primary justification for e-learning is its ability to individualize the learning experience. It's what we swap in exchange for not having live instructors guiding our learning. But for this to be the primary use of the technology, design, and development have to be much easier than it has been. That's why I work to identify and simplify primary concepts, work on the process, and develop authoring tools.
What are your aspirations for the future of e-learning? What are some current trends (in L&D) that you're excited about?
My "grand aspiration" is to provide free, great, individualized learning experiences for all people on planet earth—learning experiences that help us all, no matter what age and location, to realize the most of our potential. I think we've arrived at the point where this is possible, and I'm doing all I can to get started.
Is there any research or peers in the industry that are currently inspiring you?
The amazing work done by Allen Interactions' studios inspires me and has for nearly 30 years now. I've seen our teams take on challenging content, schedules, and budgets and produce awesome learning programs. What is so important is not to let technology lead, but rather to mold technology to the learning need. I know many organizations don't have the resources that make this easy. Compromises are understandable, but so often, regrettable in the long run.
Over time, how has your definition of success changed? How do you believe that has helped shape your work in the industry?
I'm sure I sound like a broken record (that's a metaphor that probably doesn't make sense to many now that broken records are relics now), but it's the notion that learning is an individual process—we can't learn for learners; they must do the learning themselves. So, my definition of success hasn't really changed that much: it continues to be how we can do exactly the right thing at the right time for each learner in support of their learning journeys.
I want learners to feel that everything that happens is just what they wanted and needed. My guiding model continues to be what a great mentor would do.
"My definition of success hasn't really changed that much: it continues to be how we can do exactly the right thing at the right time for each learner in support of their learning journeys
What is your favorite story from your early career, before Allen Interactions was founded?
It's hard to pick one, there are so many, whether it was an OSU student who was failing all her courses except Biology 101, in which we implemented an LMS to provide individualized learning guidance, or students in Baltimore City schools who climbed through the ventilation system to get to their e-learning at night, gang member students in East Los Angeles who became champion mathematicians, or a group of Catholic nuns who discovered they could use my authoring system to create great e-learning without programming experience.
What do you consider your biggest "career-defining" moment?
Getting my Ph.D. certainly focused me and, almost at the same time, having the experience of using digital technology to help a failing college student earn an A in biology. It changed her life, gave her confidence and the knowledge that she could learn and perhaps survive all life's experiences that were telling her that she wasn't capable. And it supercharged my life, knowing that I had to work toward providing great learning experiences to all people I could reach.
---
About Allen Interactions
Allen Interactions is an end-to-end performance improvement agency specializing in custom learning and technology solutions to help organizations achieve workplace transformation and human behavior change. With over three decades of deep experience, AI partners with organizations on a variety of performance ecosystem initiatives including learning strategy, custom learning development, technology and automation, software engineering, change management, and talent staffing. Their passion is to always deliver Meaningful, Memorable, Motivational, and Measurable experiences that are laser-focused on each organization's unique performance improvement goals and needs.

About eLearning Industry
eLearning Industry is a publishing platform that delivers inspiring, industry-specific content to e-learning professionals. It is the largest online community of e-learning professionals in the industry and was created first and foremost as a knowledge-sharing platform to help e-learning professionals and instructional designers connect and stay up to date with the latest industry news and technologies. eLI strives to cultivate and grow the e-learning community with one key drive: sharing valuable e-learning content.
---