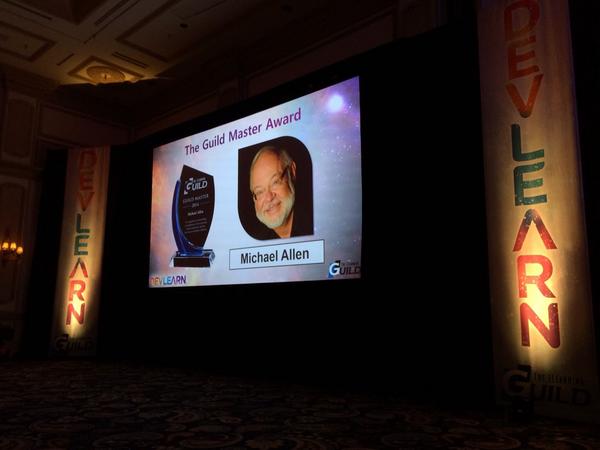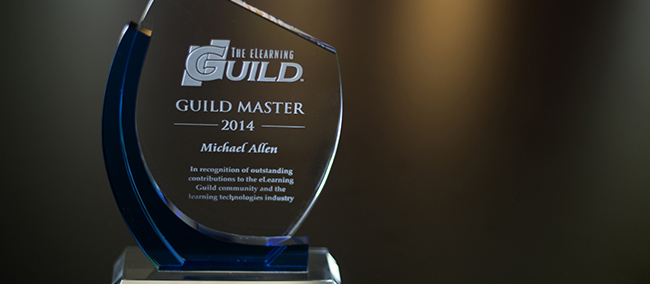 The eLearning Guild presented Dr. Michael Allen with its Guild Masters Award, on October 29, at a ceremony held during the eLearning Guild's Devlearn Conference & Exposition in Las Vegas, NV. The Guild Masters Award recognizes an individual for consistently contributing to the elearning community in terms of both quantity and quality of content—and thus helps make the community a vibrant center for learning.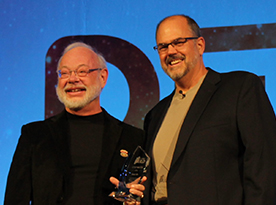 "My singular drive has always been to help every person achieve his or her full potential through the creative use of multimedia technologies," stated Michael. "We don't care about what people know. We care about what they can do and actually do with what they know. Our challenge, as effective instructional designers, is to get people to make the leap from knowing to doing."
Allen maintains that, to be effective, elearning must be meaningful, memorable, and motivational. "While these principles are important for all forms of instruction, they are perhaps most critical to the success of e-learning where working alone on a computer can become boring so very quickly when there's nothing interesting going on."
Some of Michael's Career Highlights
Michael Allen is a recognized leader in the architecture and design of interactive multimedia learning strategies and authoring tools. He has more than 45 years of professional, academic, and corporate experience in the development, sales, and marketing of interactive learning and performance support systems. Michael created the advanced design and development approaches we've used here at Allen Interactions for more than two decades, which include CCAF-based design and the SAM process for iterative, collaborative development. He was also the innovative force behind Authorware, a leading authoring tool for its time, and the award-winning visual-based authoring and publishing system, ZebraZapps. He has been sharing his knowledge with the industry for more than a decade through eight published books on creating effective e-learning, including the ATD bestseller, Leaving ADDIE for SAM. His most recent endeavor has been as in instigator of The Serious eLearning Manifesto, which puts forth a declaration to improve the state of elearning, helping elearning professionals regain the creativity and passion for their vocation.
About the Guild Masters Award
The eLearning Guild is a Community of Practice for those involved in eLearning and learning technologies. Thier goal is to enable members to share their knowledge, expertise, and ideas with other members—and our their success is dependent on their member's willingness to do so. The purpose of the Guild Masters Award is to recognize those members who have consistently contributed to the community in terms of both quantity and quality of content—and thus help make the community a vibrant center for learning.
Social Buzz from DevLearn 2014
Here are just a few of the messages from around the web! Check out more tweets, resources and information from the DevLearn Backchannel Feed.
"Well-deserved! An innovator with a serious passion for Instructional Design." - Jason Plevras via LinkedIn
"Michael Allen's books and software have been tremendously helpful to me in improving my work in instructional design and development. At conferences, I've always been struck by his passion, humility, and generosity. This award is very well deserved." - Jennifer Grant via LinkedIn
— Clark Quinn (@Quinnovator) October 30, 2014
Congratulations to Dr. Mike Allen as the newest eLearning Guild Master! #DevLearn pic.twitter.com/J6lL9ScYum

— Brett Duncan (@baduncan121) October 30, 2014
Dr. Michael Allen receives the prestigious guild master award at DevLean to celebrate his impact on our community.

— Metrix Group (@MetrixGroup) October 30, 2014
#devlearn Mike Allen just honored as Guild Master 2014. He deserves that recognition! Welcome aboard, Mike!

— Allison Rossett (@arossett) October 30, 2014
Congratulations to Dr. Michael Allen of @customelearning on winning the 2014 Master Guild Award! Huge fan! #DevLearn pic.twitter.com/iGmyUBywvS

— Andy Foley (@CSTD_Andy) October 30, 2014
2014 Guild Master Dr. Michael Allen @customelearning @zebrazapps #DevLearn pic.twitter.com/lhmUszls4O

— Christopher Allen (@C_More_Zebras) October 30, 2014
Dang! Wish I'd made it to #devlearn this year to hear Michael Allen @customelearning speak (and possibly meet him)! He's a true ID pioneer.

— Sacha Johnson (@sevesach1) October 30, 2014
RT @eLearningGuild: Congratulations to #DevLearn 2014 Guild Master Michael Allen! #eLGuild <- Well deserved, @customelearning!

— Chris Benz (@chris_benz) October 31, 2014
Listening to Michael Allen talking bout putting learners at risk - music to my ears! #DevLearn pic.twitter.com/EGBlwB0Dmh

— Ruth McElhone (@ruthmcelhone) October 30, 2014