Offices, schools, and colleges everywhere are shutting down for days or weeks to slow down the spread of COVID-19, also known as the novel coronavirus.
For many involved in training and education, work and classes are expected to continue, even in institutions or organizations that have rarely supported distributed learners before.
---
Some of my closest friends are middle school and high school teachers.
This week, they're transitioning their classes to online delivery. (VHS = Virtual High School)


At Allen Interactions, we're familiar with remote work and distributed learning. We've had a blended workforce for years, with some employees working from central offices and others working from home or in co-working spaces. Some of our newer business activities are fully distributed, like the instructor-led courses we offer through the Allen Academy.
However, for some of you, this may be your first foray into remote work and virtual instructor-led training (VILT). Reconfiguring face-to-face instruction to a virtual format can be a bigger shift than you'd expect. The content from your lecture hall may need to be paced differently. Activities will need to be redesigned. As you boot up your webinar apps, you may need to brush up on the features that will allow for meaningful instructor-student interactions.
On top of all this, you have to make this transition while rationing your toilet paper. Egads!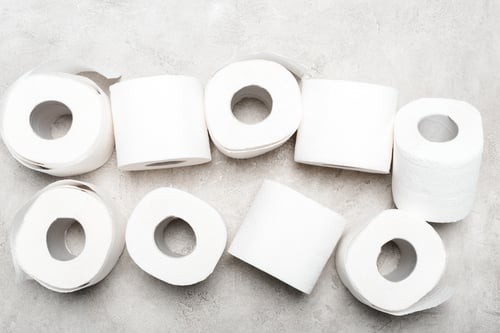 Behold: A dragon's hoard of TP.
We'd like to make it a little bit easier. We can't ship toilet paper to you, but we do have a lot of experience with virtual instruction and distributed learning. Here's a list of 10 tasks and suggestions to get you started.
10 Ideas for Starting Remote Instruction
Set Up Your Workspace
Set up your webcam. Webcams make a big difference in learner engagement. Even if you plan on sharing something on your computer screen for most of your sessions, having your webcam on makes it clear you're paying attention. Test your webcam and observe the video feed with a critical eye. Does the camera feed display anything that might distract your learners—or you?
Set up a second display. You can make VILT work from a single laptop screen, but a second display will make it easier for you to manage the various files and programs you might have up while running your virtual class.
Coordinate with others at home or in your workspace. The fewer distractions you have, the more you can focus on creating a great learning experience. This is especially important for those of you working from home. Create signs, close doors, and set expectations about when you will and won't be available.


Plan the Virtual Classroom Experience
Don't let people be anonymous. If your group is of a reasonable size, make people share their webcam or at least a photo of themselves.
Take time to build a sense of community. Don't abandon camaraderie-building activities. Play "Hobbies" bingo through chat, or check out these cool icebreaker ideas from the makers of my favorite virtual whiteboard app, Miro.
Select an assistant. Have an assistant who is dedicated to fixing technical issues and closely monitoring chat to escalate meaningful questions. If your organization can provide this kind of support, great! If not, ask your learners to volunteer and rotate assistant duties amongst people in the class.
Test drive an unfamiliar feature every few days. If you're new to virtual instruction, it can be tempting to veer away from the range of features available on most platforms like Zoom, WebEx, or GoToWebinar. Yet these features can streamline instruction once you're comfortable using them. For example, we use the Participant Window in Zoom for quick check-ins during our Allen Academy courses.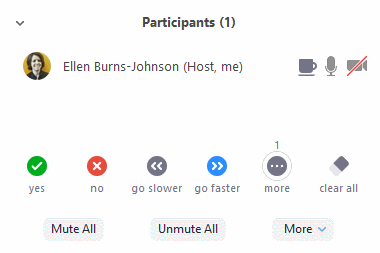 "Give me a green check when you're ready for me to continue."
Reorganize the Content
Intersperse presentation with user activity. Even the most charismatic speaker will have trouble holding a virtual classroom's attention if all she does is present a PowerPoint for sixty minutes. Break up presentation frequently for user activity. You might even consider taking a longer session and breaking it up into smaller segments with assignments in between.
Keep text off the screen. When you are presenting, show interesting and motivating imagery as a backdrop to your exposition—avoid putting walls of text on-screen. Provide text-heavy content in separate participant guides, which you can give to your learners as PDF downloads.
Have "field trips". Plan activities that will get your remote learners moving around and not looking at the screen. Send them on field trips to find examples and capture pictures, or to sketch, take selfie videos, and so on. Use your computer's built-in timer app to display the amount of time remaining before participants come back together as a large virtual group.


Do you have other ideas to add to our list? Need further guidance on shifting to remote instruction? Trying to find a more productive way to use your time in self-isolation than playing tic-tac-toe with your cat?
Watch the recording of me, Ethan Edwards, and Lisa Stortz in a "virtual roundtable" this Thursday, March 19, 2020. This will be an open conversation about shifting face-to-face instruction to virtual, with lots of audience participation - done from a safe distance!
After the session, we will write up all suggestions from the roundtable and send them to you in a handy, formatted checklist.
To conclude, here's a shout out to you trainers, teachers, professors, mentors, educators, coaches, and other throngs of professionals joining the ranks of the remote workforce this week. Thanks for doing your part to keep our communities as healthy as possible.
Stay sane and stay safe!
We're learning experts, not health care professionals. For information about the novel coronavirus, look to the Centers for Disease Control and the World Health Organization. For questions about your own health, call your doctor.