On a recent visit to the National Museum of Transportation in St. Louis, MO, I had the opportunity to reflect on the impact of Design Thinking. It is such an important element in creating instruction but despite the label "Instructional Design" that gets bandied around so freely in our industry, little of what corporate instructional designers do really qualifies as "design" in my opinion. Rather, instructional designers seem buried mainly in formatting information, implementing technical solutions for hosting online information, and creating the most rudimentary evaluation instruments. These are all important aspects, but should not take the place of the actual design.
Design Thinking, on the other hand, begins with the user, not the content. It is built on empathy - sensitivity to the user's situation, and emotional, cognitive, and physical state. It is essential that the designer knows the prior expectations, experiences, and intentions of the user in order to create a lasting meaningful experience.
Do automotive design and design thinking have anything in common?
Automotive design is a very different discipline, but it should share aspects of Design Thinking. I was struck by the clear message and experience created by the 1957 Chevrolet Bel Air Convertible I encountered at the National Museum of Transportation in St. Louis, MO. Talk about creating an experience. This car has been out of production for 65 years, yet it remains prominent in the memory of anyone who rode in one...indeed, it is prominent in the collective recollection of an entire era of American history. That wasn't by chance but due to the design ideas that came into play in the creation of this machine.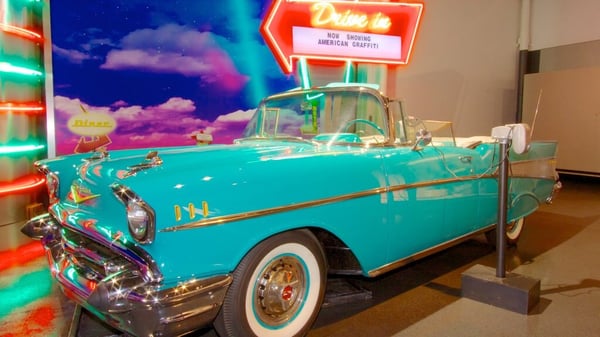 Clearly, there was an awareness of the desire in drivers for fun, whimsy, and overexuberance that found its way into the fashioning of this vehicle. If you lived through the 1980s, I challenge you to remember anything of comparable delight in the cars of that era. The corporate constraints had switched so strongly toward fuel efficiency and practicality, disconnected by and large from the experience of driving, that it's nearly impossible to conjure up memories of vehicles from that era. Any empathy for the driver as a person rather than a consumer was essentially abandoned.
So what does this have to do with e-learning? So many instructional designers get so lucked into the idea of delivering training that we forget the potential experience that we can provide for our learners. Our work, if done correctly, should be something that our audiences remember and enjoy.
I realize that instructional design has greatly different outcomes than automotive design, but I do think we need to be careful to preserve elements that relate to the human condition. When we abandon any distinctiveness, personality, and even quirkiness in how we create learning modules, we end up creating experiences that are impossible to remember, simply because they fall into a pattern of uniformity that may serve the content but ignores the basic requirement to capture the learner's interest. It is up to us to ensure that we have both function and fun in our work to create the best learner and organizational outcomes.
Watch On the Road with Ethan Edwards: