The 2021 Brandon Hall Group HCM Excellence Awards are given for work in Learning and Development, Talent Management, Leadership Development, Talent Acquisition, Human Resources, Sales Performance, Diversity, Equity & Inclusion, and Future of Work.Allen Interactions, a leading performance improvement company focused on custom learning, strategic consulting, and digital engineering, celebrates two Gold Brandon Hall Group HCM Excellence in Learning Awards with The U.S. Census Bureau.
"We couldn't be happier or more humbled by the opportunity to partner with The U.S. Census Bureau; they are the real changemakers who have their finger on the pulse of what it takes to drive performance change and success," stated Dr. Michael Allen, Founder & CEO, Allen Interactions.
U.S. Census Bureau: 2020 Decennial Census Nonresponse Follow-up
Two Gold Brandon Hall Awards
Best Learning Program Supporting a Change Transformation Business Strategy

Best Use of a Blended Learning Program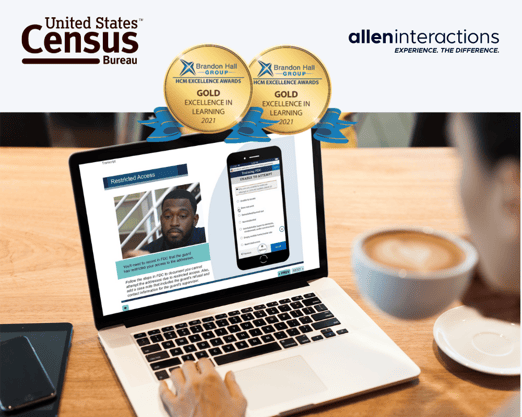 The United States Census Bureau has the gargantuan task every 10 years of onboarding and training a very distributed workforce who are hired from a range of skill and experience backgrounds to perform a task of critical national importance. There is perhaps no onboarding task quite like it in the country.
The 2020 Census marked the leap away from paper-based training materials and paper-based census-taking materials for census takers who are trained to complete door-to-door enumeration, spurred by the goal of improving accuracy, quality, and completeness of data as well as allowing for real-time performance tracking and supervising.
The United States Census Bureau proudly brought together a complete blended learning solution―device-centered, paperless in-person training including asynchronous, at-home, computer-based e-learning, and gaming to deliver onboarding training of software, procedural, compliance, performance management, classroom facilitation, and interview skills for a 400,000-person hiring surge.
What U.S. Census Clients Have to Say...
"Our team had a great experience working with Allen Interactions to develop field staff training for the 2020 Census. Starting with their SAVVY Start process, we were able to work together to identify the core competencies required of our staff and develop engaging lessons to teach concepts and provide interactive practice. The combination of online training, gaming, and device-based trainer and trainee applications for classroom training enabled thorough and consistent training for approximately 350,000 staff spread across all 50 states and Puerto Rico. Our training evaluation results showed that learners enjoyed the training and felt it prepared them for the work."

— Amy Fisher, Chief, Decennial Data Collection Branch, Field Division, U.S. Census Bureau
"It has been great working with Allen Interactions. They have helped us transform our paper-based training into paperless training that is now appealing, exciting, and engaging. It is evident from the reviews of staff who took this training that the partnership with Allen on this project was a success. Allen Interactions' hard work and dedication that went into creating this learning experience was one piece of the puzzle that helped to ensure the 2020 Census was a success."

— Rhonda Cleveland, Team Lead, Decennial Data Collection Branch, Field Division, U.S. Census Bureau
"The synergy between the Census and Allen team from the start to the end of the project led to the breakthrough design, development, and implementation of the first ever paperless innovative blended training program for 2020 Nonresponse Follow-up decennial census operation. Based on a comprehensive review of the quantitative and qualitative training evaluation data, the results indicated the overall training program was very well received and effective in providing confidence and competency to over 350,000 trainees. This new training approach paves the way for replacing paper-based training methods for non-decennial operations and future census."

—Nelson Er, Chief, Decennial Data Collection Training Branch, Field Division, U.S. Census Bureau

"Brandon Hall Group Excellence Awards in 2021 provide much-needed and deserved recognition to organizations that went above and beyond to support their stakeholders during the unprecedented disruption of the COVID-19 pandemic," said Brandon Hall Group COO and leader of the HCM Excellence Awards Program Rachel Cooke. "The awards provide validation of best practices in all areas of HCM at a time when they have never been more important to employers, employees, and customers."
Entries were evaluated by a panel of veteran, independent senior industry experts, Brandon Hall Group analysts, and executives based upon these criteria: fit the need, design of the program, functionality, innovation, and overall measurable benefits.
Excellence Award winners are scheduled to be honored at Brandon Hall Group's HCM Excellence Conference, Feb. 1-3, 2022, at the Hilton West Palm Beach, Florida. Select winners also will serve as presenters in breakout sessions, sharing their leading practices during the conference.
"We added several awards categories this year to specifically address critical needs, including how organizations addressed the new dynamics of work and embedded the principles of diversity, equity and inclusion in their HCM practices," Brandon Hall Group CEO Mike Cooke said. "Winning organizations in all categories demonstrated a people-centric approach while driving superior business results under challenging and unprecedented conditions. Demonstrating HCM's impact on the business is what sets our awards apart."
The winners are listed at: https://www.brandonhall.com/excellenceawards/past-winners.php
About Allen Interactions
Leveraging nearly three decades of extensive experience, Allen Interactions and The Allen Academy partner with organizations on comprehensive learning and talent ecosystem initiatives that include learning strategy, custom development, technology, automation, change management, talent staffing, and instructional design.
Allen Interactions' passion has always been to deliver Meaningful, Memorable, and Motivational learning and technology solutions that are laser-focused on performance improvement. The company takes on challenges for overcoming performance barriers, resistance to change, onboarding, workforce realignment, technology integration, new product introductions and support, and many others.
The CCAF and SAM design and development approaches, developed by e-learning guru and CEO, Dr. Michael Allen, have helped Allen Interactions secure its enduring position at the top of the industry. The mission-driven company has had the honor of educating thousands of professionals and organizations on its e-learning design and development principles for building true instructional interactivity for performance-changing learning. Learn more >
About Brandon Hall Group
Brandon Hall Group is an HCM research and advisory services firm that provides insights around key performance areas, including Learning and Development, Talent Management, Leadership Development, Talent Acquisition, and HR/Workforce Management.
With more than 10,000 clients globally and 25 years of delivering world-class research and advisory services, Brandon Hall Group is focused on developing research that drives performance in emerging and large organizations and provides strategic insights for executives and practitioners responsible for growth and business results.
About The U.S. Census Bureau
The Census Bureau's mission is to serve as the nation's leading provider of quality data about its people and economy. The Census Bureau's primary mission is conducting the U.S. Census every ten years. The information provided by the census informs decisions on where to build and maintain schools, hospitals, transportation infrastructure, and police and fire departments. For more information visit: https://www.census.gov/