We are proud to announce that we are the winners of FOUR 2013 Brandon Hall Awards! It is because of our wonderful clients and talented studios that we can celebrate award-winning learning experiences year after year!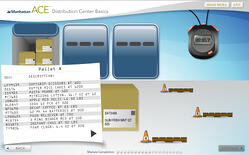 Manhattan Associates' award-winning e-learning provides the opportunity to take a virtual tour of a typical Distribution Center. In this course, learners not only "tour" a Distribution Center, they also "try out" the activities performed, and experience first-hand, the challenges to manual processes and benefits that Manhattan's software-enabled optimization provides. Through the tour, learners meet with people who work in the Distribution Center and experience how they are motivated. To accomplish this, a series of mini learning events build around each stop on the tour.
Experiencing a virtual Distribution Center allows learners to employ context to their projects. Recognizing how the role of the Distribution Center plays in to the supply chain provides learners with an understanding of how their work helps the success of the business and the success of Manhattan's clients.
---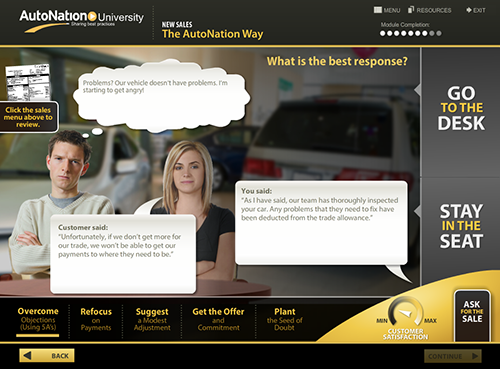 As America's largest automotive dealer, with over 20,000 Sales Associates, AutoNation found itself facing a common struggle—too much content, too many people to train, too little time for training! AutoNation needed a more effective and efficient way to train advanced sales skills—a method that was scalable, repeatable, and minimized the amount of time spent away from the sales floor.
Recognizing that simply presenting content to the learners in an e-learning course would not lead to behavior change, AutoNation partnered with us to design and develop an hour-long e-learning course as well as Instructor-Led Training to build confidence in Sales Associates, preparing them to present a Sales Menu to customers and to discuss their needs with the manager at the sales desk.
Delivering a new method of training, coupled with the recent investment in a Learning Management System, led some AutoNation leaders to question whether or not these expenses were justified. Therefore, solid metrics on performance improvement were necessary to overcome skepticism.
---
Bronze Brandon Hall Award


River Cities Public Transit, Wheelchair Securement | Best Custom Content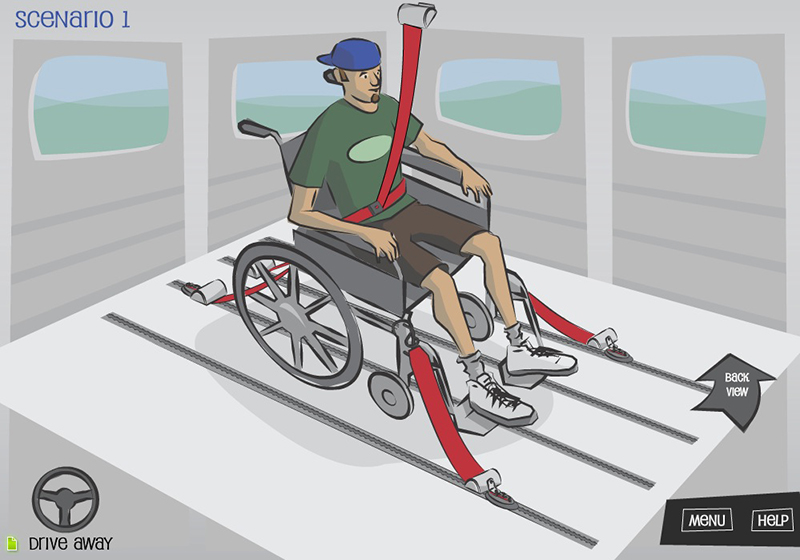 We are pleased to have partnered with River Cities Public Transit (RCPT) to develop an e-learning course targeting the securement of wheelchairs in vans and buses. This course was developed as part of RCPT's web-based e-learning program called CTEL, the Center for Transportation e-Learning. It was designed for drivers employed by rural and small urban agencies in the transit industry.
Allen Interactions and CTEL representatives agreed upon a set of target behaviors that address the challenges drivers face.
---
Bronze Brandon Hall Award


AT&T, Gamification for Call Center Training | Best Use of Games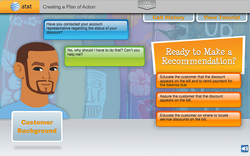 Providing excellent customer service to their clients is essential to AT&T's success. To continue this high level of customer satisfaction, AT&T created a series of engaging and interactive games designed to supplement their current 6-week Customer Service New Hire Training Program. We partnered with AT&T to develop a series of interactive learning events which engage the learner in knowledge enhancing-learning games that focus on continual delivery of exceptional customer service.
This game serves as a way for sales representatives to review a customer's billing issue or inquiry, ask effective probing questions, explore the appropriate systems to determine the reasons behind the customers' calls, and confirm the reason(s) why each customer has called, all while earning/losing points for choosing correct/incorrect options.
---
About Brandon Hall
Now entering its 19th year, the Brandon Hall Group Excellence Awards Program is the most prestigious awards program in the industry. Often times called the "Academy Awards" by Learning, Talent and Business Executives, the program was one of the first of its kind in the learning industry, which was pioneered in 1995.
In the last several years Brandon Hall has expanded to include additional categories that cover functional areas that are responsible for driving performance within an organization. They recognize the best companies that have successfully developed and deployed programs, strategies, modalities, processes, systems, and tools that have helped companies achieve measurable results.

Brandon Hall receives applications across 78 categories and four program areas from organizations around the world ranging from small, medium, large, and global enterprises, government, not-for-profit, and associations.