Allen Interactions, a leader in cutting-edge human performance solutions, wins the coveted Brandon Hall Group Gold award for excellence in the Best Advance in Custom Content category.
The 2022 Brandon Hall Group HCM Excellence Awards are given for work in Learning and Development, Talent Management, Leadership Development, Talent Acquisition, Human Resources, Sales Performance, Diversity, Equity & Inclusion, and Future of Work. View All 2022 Brandon Hall Group HCM Excellence Award Winners
Allen Interactions leadership responds to industry accolades
Allen Interactions is proud to be the recipient of hundreds of learning and development awards that highlight our full-scale training solutions and engineering for innovative and engaging learner outcomes.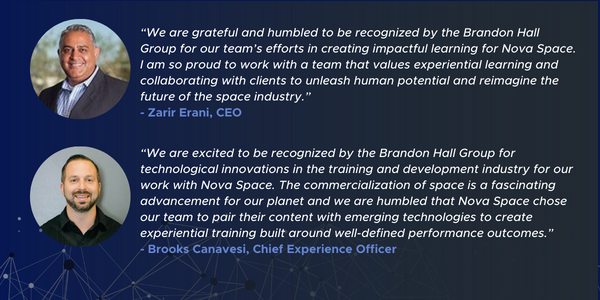 About the award-winning space professional training
Nova Space and Allen Interactions developed the first space educational program designed for all learners, bridging the global space industry gaps by offering virtual, asynchronous, and interactive courses to individuals and to organizations. This program was designed to effectively and efficiently train, in large numbers, the space workforce of the future.
Industry: Space Professional Education

Practice Area: Skill Development

Solution: Asynchronous e-Learning, Competency & Skill Development

Audience: Novice to Expert-Level Space Professional Teams, Individuals, Government, Academia
The Nova Professional Space Development Program uses industry experience and research through several prominent civilian and Government organizations to identify learning objectives. The Subject Matter Experts chose high-priority objectives based on personal experiences and challenges that would benefit the future of the space industry.
Addressing both industry standard practices and knowledge, innovative topics, established topics, and lessons learned, no other course encompasses the scope of material covered. Focusing on student frustration—having to take multiple courses to acquire this level of knowledge—Nova Space was able to cover this range of learning objectives.
Every interaction in the course supports core learning objectives. By developing interactions that bridge several topics, this program demonstrates how one area, for example, satellite design, will affect another seemingly unrelated area.
Through a modular approach to distributing practice of core skills, identification of skill gaps, and simulated environments, this program effectively supports learning objectives and retention of material for all students and learning styles.
About the Brandon Hall Group Excellence Awards
"Our award winners demonstrated the vision, agility, and innovation needed to excel in the unchartered hybrid work environment," said Brandon Hall Group Chief Executive Officer Mike Cooke. "We added and revised awards categories to ensure that we not only validate best HCM practices but also solicit and recognize next practices that set a high bar for everyone."
Entries were evaluated by a panel of veteran, independent senior industry experts, Brandon Hall Group analysts, and executives based upon these criteria: fit the need, design of the program, functionality, innovation, and overall measurable benefits.
Excellence Award winners are scheduled to be honored at Brandon Hall Group's HCM Excellence Conference, Jan. 31-Feb. 2, 2023, at the Hilton West Palm Beach, Florida. Select winners also will serve as presenters in breakout sessions, sharing their leading practices during the conference.
About Brandon Hall Group
Brandon Hall Group operates the largest and longest-running awards program in Human Capital Management. As an independent HCM research and analyst firm, they conduct studies in Learning and Development, Talent Management, Leadership Development, Diversity, Equity & Inclusion, Talent Acquisition, and HR/Workforce Management. These benchmark studies help organizations by providing strategic insights for executives and practitioners responsible for growth and business results.