Leading and managing "during the change" is your planning reality check. This blog contains a During the Change Checklist, an overview of the OODA Loop, and four powerful leadership questions.
According to the Brandon Hall Group HCM Outlook 2022 Report, leaders identified three top organizational challenges:
78% - Improving the employee work experience
75% - Increasing leaders' ability to manage employees inclusively
72% - Refining the work environment
The common thread: people. Change is about people. Change management and change leadership are about creating a sense of stability and predictability in a chaotic world for those people.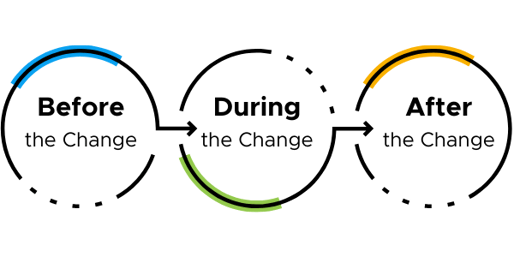 Read the first blog in this series: Change Management: Leading Before The Change >>
During the change
Once the change is underway, continual support of the cultural values of learning, trust, and innovation is required. In the "During" time frame of change, a focus on individual readiness and capability is an opportunity to further strengthen trust in leadership. When you invest in the training and development of your employees, whether at the team or individual level, you demonstrate how much you value them and believe in their ability to achieve success.
A new perspective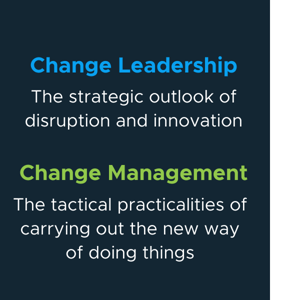 The complexity of organizational and operational change is a compelling reason for formal change management planning and execution. A purposeful change management plan reduces the risk of failure. Focused training and communication plans are necessary when upending a deep-rooted set of behaviors and systems.
Keep in mind who is responsible for what: front-line employees are responsible for their personal decision to accept the change and how they receive the modification of their jobs, while it is the responsibility of managers to direct and support them. If employees are unsuccessful in their personal transition or if they do not embrace the new way of working, it is most likely that the change—no matter the level—will fail.
During change, when leaders maintain a psychologically safe and meaningful connection with employees, they create a trust bridge for them to adopt the change required and boost your organization's ability to successfully change.
The four types of change leadership
Which are you? Or rather which would you prefer to be?
| | | |
| --- | --- | --- |
| Type | Definition | Expected Outcome |
| Command | Authoritative approach to leading, pushing information outward. | Sustained change is unlikely. |
| Punish and Reward | Change is managed through discipline or criticism for failure to follow while rewards in the form of praise or recognition for adhering to directives. | Sustained change is unlikely. |
| Include & Influence | Employees are included in the development of certain change management tactics. | Sustained change is more likely. Yet, employee resistance is present as they may feel like the change is happening to them. |
| Be the Change | Employees are fully involved employees in defining, planning, and implementing. | Sustained change is highly likely. Everyone in the organization is an active part of the organizational transformation. |
How are you doing?
Your quick and easy checklist for "During the Change"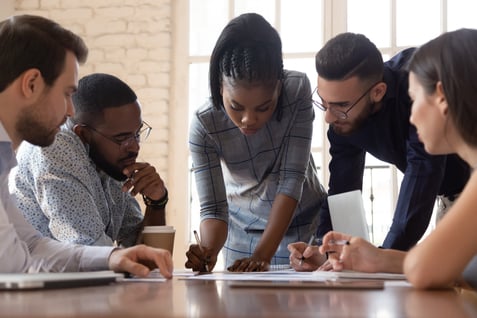 Have you:
Verified the expectations and support from senior leadership for the change implementation?

Included both a strategic and tactical approach for change, especially focused on the individuals experiencing the change?

Communicated the business case "why" to individuals experiencing the change, connecting the attitude, behavior, or skills dots?

Ensured your communication plan connects change to the mission, vision, and values of your organization?

Aligned the training plan to the performance and mindset changes that must occur?

Instituted an authentic reward and recognition tactic for successful adoption and adaptation of needed knowledge and skills acquisition?

Updated your original shareholder analysis informing your change management plan?

Revisited the risk mitigation section of your change management plan?

Generated periodic metric reports illustrating progress to all involved in the change?

Conducted a mid-change AAR?
Don't forget to check on how your training plans are progressing. Before the change, leaders have identified the new behaviors and skill sets required for employees and teams for successful adoption and adaptation. Measurement is an important part of the training plan: periodically check and report on the metrics.
OO LA LA, it's OODA
Remember when we said change is about people?
A concept out of the military domain called the OODA loop is a useful frame for continual support. This model answers the need to increase our cycle of observation and action. Developed by USAF Colonel John Boyd, the OODA loop helps to create a structure for understanding and dealing with uncertainty. It emphasizes individual and team ability to collect information, synthesize it, and create a plan of action. The better organizations can OODA, and continue to do so iteratively, the greater chance they have of adoption and adaptation to change.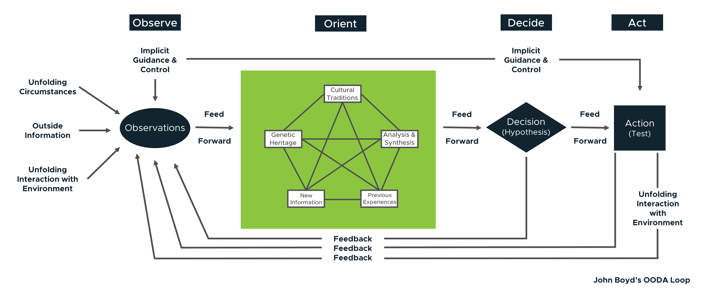 Purposefully stay connected to your people by replacing process/progress reports with empathy and compassion check-ins. KPIs will tell you the progress of your changes. Leaders who question "how may I support you" will know the progress of people change. Continue to build communication for your trust bridge.
The four powerful questions of change leaders
An OODA loop may seem overwhelming. You can accomplish recursive change leadership by simply asking four powerful, open-ended questions of your employees or teams.
How are you feeling about this change?

How may I best support you?

Do you understand the change?

What are the impacts of the change on your department?
Course correcting
Diligently visit the Risk Mitigation section of your change management plan. It addresses people's issues and ensures successful change in three ways:
Deeply assesses impact: It's built with a clear understanding of the impact of the change across the organization

Focuses on the essentials: It focuses on the most important impacts or issues within each segment of the employee population

Addresses need by employee segment: It deploys the critical levers and customizes the right tactics to address the needs of each employee segment
In summary
In 2000, studies revealed that 70% of all change initiatives fail, resulting in loss of productivity, time, money, and most importantly, employee morale. 20 years later, new studies reveal that 75% of transformation efforts don't deliver the hoped-for results. According to those stats, change management and transformation efforts are increasing in failure rate. A critical time to course-correct is during the change. When combining change management tactics and change leadership strategies remember three words: Trust. Stability. Loops.
Trust. Visible efforts demonstrate to employees that you walk your talk. When employees witness your active listening efforts and your response to their raised concerns, they will feel valued and empowered.
Stability. Continue to foster the atmosphere of safety and security begun in the "before the change" stage.
Loops. During the change, constant evaluation enables you to pivot and adjust according to feedback. The OODA loop model is a great example of recursive change management.
This blog provided you with a quick and easy checklist of ways to assess your current environment during the change, and tools to help you navigate and course-correct when necessary. Remember change is hard, and you are not alone! We believe in you! You got this!