Change leadership begins now as leaders see change is on the horizon.
Change management often follows or is a parallel path. Change can be big, or small, planned, or unplanned. Leaders can create a psychologically safe space when they understand the power of knowledge flows and learning loops. For example, conducting an After-Action Review (AAR) formalizes learning loops within an organization and shines light onto the knowledge flows. Why wait until after the change to capture and leverage learning and development?
A simple process to prepare a team for change is a Before-Action-Review (BAR). It ensures that each team member sees the change the same way and understands each team member's role and the value they bring to the outcome. Efficient and effective, a BAR can be conducted in under one hour.
A

BAR (Before-Action Review)

holds space for teams to

answer four simple questions

about an impending change:
What are the desired outcomes and measures of success?

What are the challenges may we anticipate?

What may we learn from previous situations?

What may we do to be successful during this change?
Each question prompts a reflective learning opportunity. Learning organizations are built on trust, empathy, and compassion. Leaders recognize the importance of learning and development as strong strategic and tactical ways to best prepare and support employees. Learning loops are iterative cycles of continual improvement. BARs and AARs are easy ways to reflect on change and its impact to inform teams on next steps. Insights captured and applied may close one learning loop and open a new one.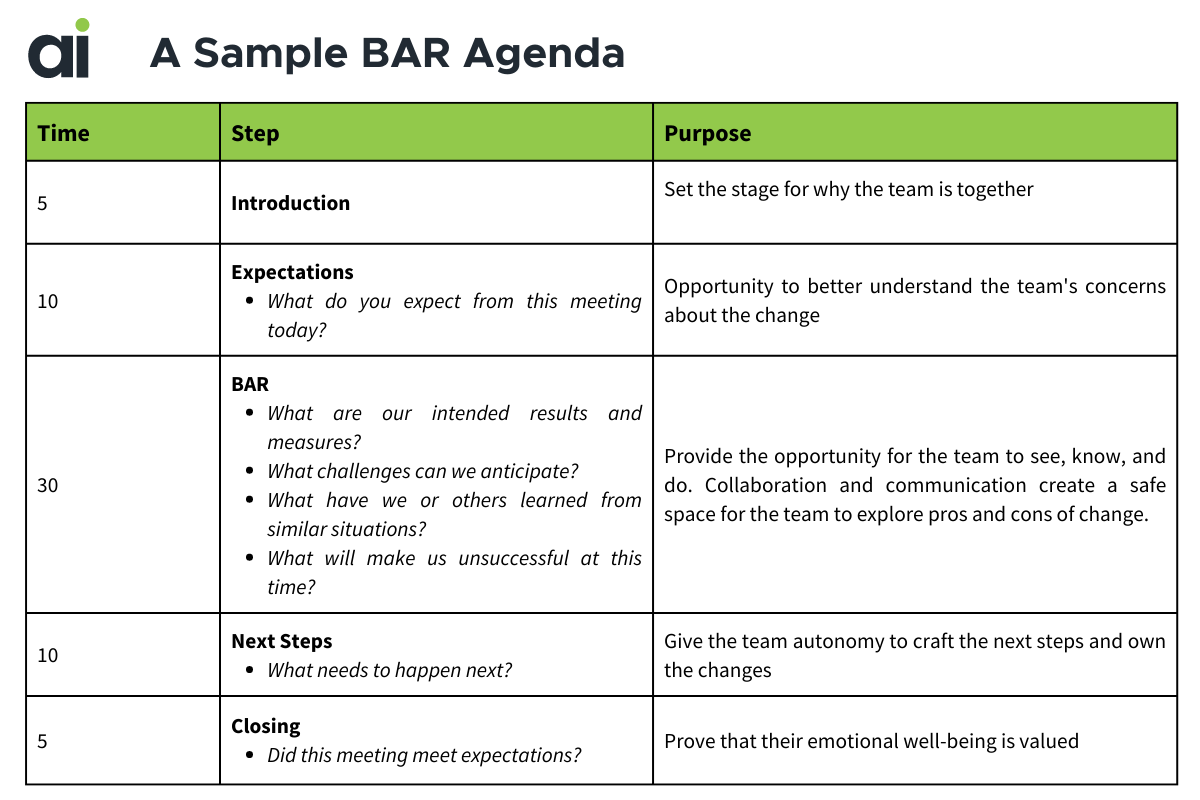 BAR helps a team appreciate their past and inform perceptions of their future. Feedback loops are learning conversations. They are a catalytic tool within the greater organizational learning loops. Change leadership closes the knowledge gap identified during the BAR. Learning, when linked to work, can be creative, flexible, ongoing, and inspiring. Investing in employees through learning and development activities, like BAR and AAR, demonstrates their voice is valued and, in turn, increases employee engagement.
Change leadership that leverages BAR and AAR meetings establishes employee/leader formalized feedback loops and patterns of certainty during times of chaos and uncertainty. Effective change management includes recognizing the learning opportunity. Knowledge flows, feedback, and learning loops are ways to maximize team performance and develop an organizational learning culture.
---
Download Your Ultimate Playbook for Change Management Success Today!
Click here to learn more > or call 800.799.6280 for more information.