Today finds people all around the world celebrating St. Patrick's Day. Like so many ancient customs, the precise history of St. Patrick and the significance of iconic bits of folklore have become muddled.
What few people realize is that these legends were really much more about e-learning design than Ireland. Let me fill you in.
Four-Leaf Clover

St. Patrick was actually an instructional designer who traveled around, visiting training departments, using the 4-leaf clover as a symbol to help designers remember the foundations of good interactivity.
Each of the four leaves reminds us of the four components of instructional interactivity: Context, Challenge, Activity, Feedback.
Driving Out the Snakes
While the idea that St. Patrick drove the snakes out of Ireland has been largely discredited, he actually made a concerted effort to drive direct PowerPoint conversions out of all e-learning modules. While he, unfortunately, didn't succeed in this effort, it remains a worthwhile goal.
Blarney Stone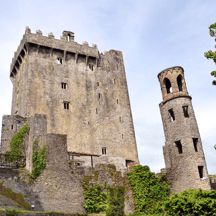 It is also important to remember the lesson of the Blarney Stone. Legend has it that kissing the Blarney Stone bestows the gift of excessive coaxing and flattering speech. This is a particular trap for e-learning content writers. Few things destroy the impact of an e-learning module as completely as dumping too many words on the learner without meaning or significance.
Leprechauns
Traditions also remind us of the importance of motivation. What keeps Leprechauns out of trouble? It's the conviction that there is a pot of gold waiting for them at the end of each rainbow. Otherwise, they just get in trouble, pinching people! What's that pot of gold that provides meaning, relevance, and reward to learners engaged in an e-learning module?
Corned Beef and Cabbage
And why should e-learning designers eat corned beef and cabbage? It is a humble dish, created with care from common ingredients: corned beef, cabbage, carrots, potatoes, etc. It reminds us that success does not require fancy media treatments or expensive tools to create something of great value. Sometimes the most satisfying e-learning experiences are where simple elements combine to meet a straightforward need.
---