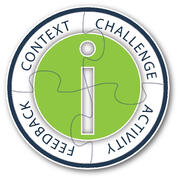 Overwhelmed with everything that makes great e-learning? Don't be! Register now for this free webinar series consisting of four, one hour sessions, and learn about a design process that you can harness and apply to your daily e-learning efforts to create e-learning that makes a difference!

In this series led by Ethan Edwards, chief instructional strategist for Allen Interactions, you will learn a four-step e-learning design model (CCAF) for achieving instructional interactivity and meaningful learning experiences that can result in lasting performance change.
Creating e-Learning that Makes a Difference - A Webinar Series
Monday, July 26, 2010 - Thursday, July 29, 2010
Daily from 1:00 - 2:00 pm, CST

Over the four days Ethan will focus on each of the four components that comprise the CCAF Design Model: Context, Challenge, Activity, and Feedback. He will explore real-life examples from organizations that have implemented successful e-learning programs and illustrate this model's application for creating interactive and effective e-learning.

You will learn:
how to apply these components to your e-learning design efforts for maximum learner engagement and performance.
Webinar Series Schedule:
Monday, July 26th - Context
Tuesday, July 27th - Challenge
Wednesday, July 28th - Activity
Thursday, July 29th - Feedback
About Ethan Edwards
chief instructional strategist and principal consultant, allen interactions
Ethan draws on more than 25 years of industry experience as an e-learning instructional designer and developer. He is responsible for the delivery of the internal and external training and communications that reflect Allen Interactions' unique perspective on designing and developing meaningful and memorable e-learning program. Edwards is the primary instructor for
ASTD's e-Learning Instructional Design Certificate Program
. He is also the lead blogger for Allen Interactions'
e-Learning Leadership Blog
and author of the
e-book "Creating e-Learning that Makes a Difference
".