by Ann Iverson, instructional designer

Spring is here and love is in the air. So it's the perfect time to make a relationship confession: My heart belongs to SAM*. There! I've said it, and I'm glad it's finally out in the open!
As an instructional designer with close to 20 years of experience in the learning industry, I've seen a lot of changes. Technological, social, and cultural advances have helped e-learning evolve from simple "page turners" to highly interactive, engaging experiences. Through it all, a few models and systems prevailed. One of those is the ADDIE* process, which I clung to dearly for most of my career.
ADDIE helped me through many tight spots early on when I had nowhere else to turn. Those five steps carried me through client conversations when stakeholders exclaimed, "We don't have time for a needs analysis!" or "We don't have budget to evaluate!" I could always count on ADDIE to help me provide the rationale I needed for the essential steps in developing the right learning solutions.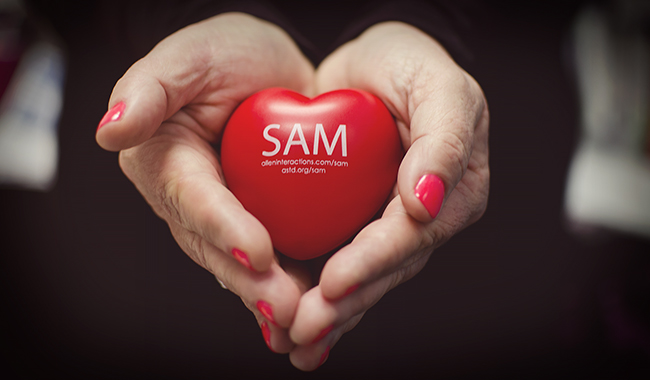 So when Dr. Allen introduced me to SAM, I was cautious at first. I asked around, "What does SAM have that ADDIE doesn't?" Turns out, when it came to ADDIE, I was in denial. In my heart, I knew something was missing, but I wasn't ready to let go. Sure, I'd been burned in the past when stakeholders provided valuable feedback just a little too late according to the project timeline. ADDIE was comfortable, but SAM was becoming hard to ignore, especially after I heard so many great things. It wasn't long before I gave SAM a try and soon realized that it was a great fit for me. SAM and I have been going strong since then, and here are a few reasons why:
SAM is engaging and fun.
ADDIE's linear process can feel a bit limiting and claustrophobic. Who wants to be told you can't have an idea because the window for that is now closed? And moving the project along in an assembly-line fashion doesn't allow for exploration and fun. Rather than pulling the client along to project completion, SAM creates space that allows for partnership, creativity, and play.
SAM encourages open conversation.
Instead of holding ideas and input for a single, large-scale review, SAM allows stakeholders to provide frequent feedback in small chunks allowing for revisions when they cost the least. Brain bursts can't be scheduled! SAM welcomes fresh ideas as they come along and keeps the communication flowing in an open, honest way.
SAM respects relationships.
SAM's iterative process respects the client relationship. Rather than setting one party up as the "Ultimate Expert" who drives the project, the iterative process allows everyone to collaborate and offer revisions. Each member of the team is a contributor to the final product, which results in more effective decisions and solutions overall.
SAM brings out the best in people.
Regardless of your role on a project – learning expert, subject matter enthusiast, project manager, job supervisor, front-line worker, etc., your voice matters! You are part of a high-performing team that demands your participation. Everyone on the team is valued, and their strengths and energy are leveraged to create high-quality learning solutions.
SAM is simple.
SAM is simple and flexible so that anyone creating great e-learning can apply it in their own work. SAM allows for transparency, so stakeholders get a vision of the solution early in the process and can provide feedback right away. This input is what makes learning projects with SAM so successful.
So now you can see why I'm so drawn to SAM! ADDIE and I had a great thing going while it lasted, but I've moved on. I'm not saying you should move on too, after all, relationships are complicated, but I know I'm having a lot more fun with SAM. The choice is yours!
*SAM stands for Successive Approximation Model, an agile development model we use here at Allen Interactions to ensure learning, retention, and business impact are achieved for organizations. Our approach with SAM involves making repeated iterations to move closer to the final product with each milestone.
*ADDIE is a generic term for a five-phase instructional design model. Each step has an outcome that feeds into the next step in the sequence.