Rapidly occurring changes are constantly destabilizing organizational dynamics risking trust in leadership, organizational culture, and ultimately business profitability. Popular change management models may be falling short in supporting this dynamic situation. Creating stability requires recursive change management approaches enabling skills that foster organizational resilience including but not limited to trust, compassion, and empathy.
We were already in a time of rapidly occurring change due to technology and connectivity acceleration when suddenly a pandemic thrust our organizations into a brand-new landscape. Statistically, 70% of all change initiatives fail to result in more time, money, productivity, and morale. Though the intention to manage change is good, the perspective is lagging. With the increasing cycles of change, change cannot be considered a separate event and be successfully embedded into the cultural fabric of your organization. Fast constant change must be adopted as the way business will be conducted in the "new normal".
The experience of change itself has shifted. It is not limited to singular events or organizations. The study of change management as a formal emotional event began in 1969 when Elisabeth Kubler-Ross illustrated the emotional pattern of loss. When change happens at any level there is a distinct sense of loss—a loss of what was. Kubler-Ross's study subjects were coming to terms with life-changing knowledge; that they were terminal.
In the workplace, managing the emotional toll of change encompasses individuals, teams, and the organization. The current pandemic has shifted this scope to include families, communities, and even countries. The rate and speed is far different than what we were attempting to navigate. As one change happens, in this hyper-connected world before we are able to emotionally and intellectually process the change another occurs. A call for an evolved understanding of human capacity for change is required.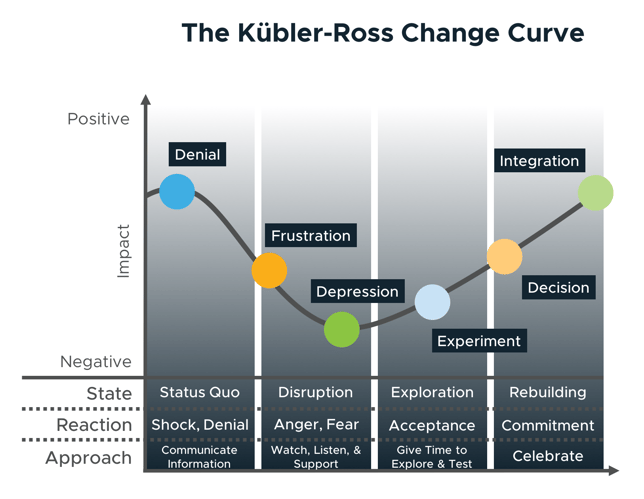 Change Management Models
Change management models provide frameworks to assess and address an anticipated or already occurring change. Ideally, leadership utilizes them to diagnose possible employee resistance to change and then applies them as a coaching tool for managers to help employees transition. Frameworks and models are an excellent way to teach the transitory nature of how humans process change emotionally and intellectually while creating a common language for greater understanding and empathy. There are many ways to guide change.
D.E. Hussey introduced in his book, How to Manage Organizational Change, the change approach, EASIER: Envision, Activate, Support, Implement, Ensure, and Recognize.
In 2006, Jeff Hait introduced the proprietary Prosci ADKAR Model: Awareness, Desire, Knowledge, Ability, Reinforcement.
Comparative Matrix of Change Management Models
This matrix of models illustrates how frameworks follow similar linear patterns. The challenge is providing organizations a meaningful model to better negotiate change.
Here are the caveats:
Accept that our new normal is a constant state of change driven by external forces
Understand that this linear geometry of change has quickly evolved into an overlapping cycle
We are in a constant state of flux where shifts occur fast enough in the curve that, before acceptance has happened, another change has occurred. A spiraling change model is not a new concept. Let's explore two models.
Two Models for Spiral Change Management
One model was developed to reduce risk in software development in the information technology industry. In 1986 and 1988, Barry Boehm published a model based on the repeating patterns within software development projects, and then expanded his findings to a broader application.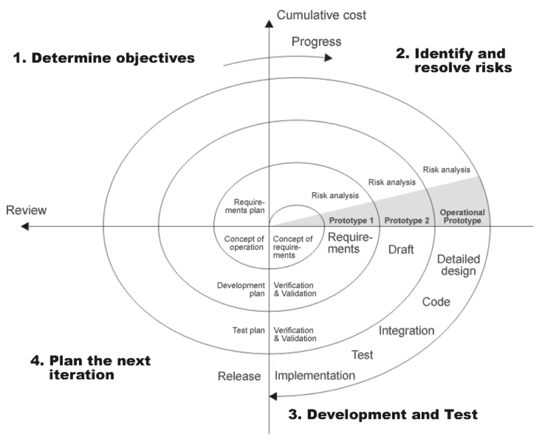 A second model answers the need to increase our cycle of observation and action. A concept out of the military domain called the "OODA loop" is a useful frame for thinking. The OODA loop (below) was developed by USAF Colonel John Boyd and helps to create a structure for understanding and dealing with the unfolding of uncertain events. The OODA loop emphasizes our ability to look at and collect information to synthesize into our mental model for orienting towards a stance for decision, and then action. The better we can OODA and keep doing that iteratively, the more chance we have of staying out in front of events or starting to control the "battlefield".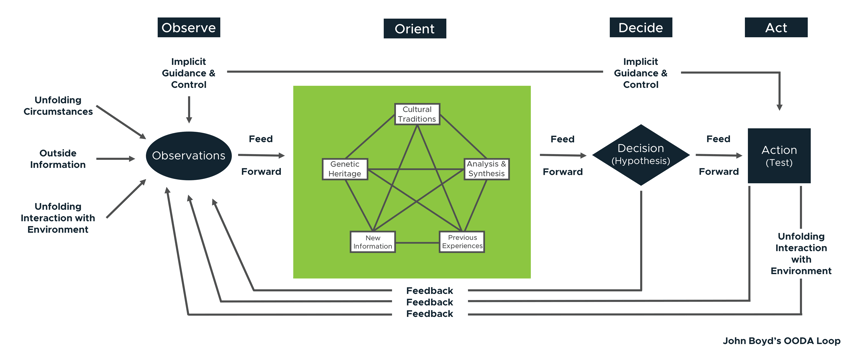 The OODA Loop is a helpful model for considering one way to drive your team's thinking. You might want to think about what behaviors or skills we need on our teams to creatively and constructively approach these renegotiations.
ABCm
Earlier we stated how over 70% of change management initiatives fail. We discussed the linear and non-linear nature of change and human behavioral adaptation. Yet the question still stands: how do we systematically sustain our gains of a change management initiatives? A systematic approach is fostering an organizational learning culture. This may be accomplished through the Allen Behavioral Change Model (ABCm).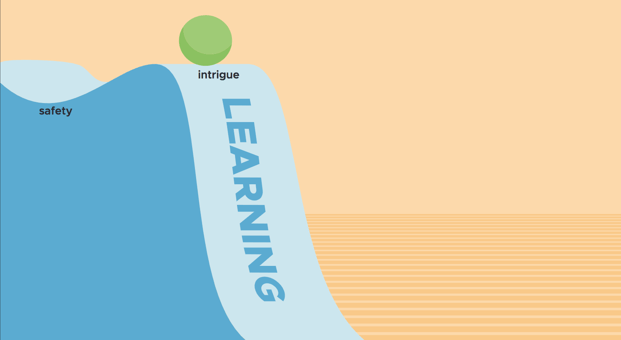 This model enhances, and is enhanced, by the concepts of spiraling change, adaptive stance, and OODA. In addition to the rational and logical frameworks of other change management models, ABCm focuses on the emotional and subconscious drivers for human decision making. This is where the magic happens and the necessary knowledge and behavioral changes stick. ABCm is "genuinely about enriching the lives of individuals by increasing their capabilities, self-confidence, and performance." Acknowledging that each individual's thought and actions are driven by their belief system, found within the 7 step ABCm, is the 3Ms model for Meaningful, Memorable, and Motivational learning experiences. 3Ms connects the change message to your employee's hearts of minds strengthening the emotional connection. In turn, employee engagement is heightened as they find themselves thriving and not just surviving in an ever changing work environment.
How can you successfully navigate change during COVID19?
1. Lead the Way
Learning and development professional ensure your change management framework is understandable and easy to adopt.
2. Prepare
Ensure that your organization has change management tools readily available: develop job aids, quick-win webinars.
3. Over-communicate
Partner with your marketing department to carefully craft prewritten texts and scripts for your managers and supervisors.
In this recursive environment, being prepared for change to change is imperative. Over the upcoming month we will be providing multiple blogs, tools, and webinars to support you.
---