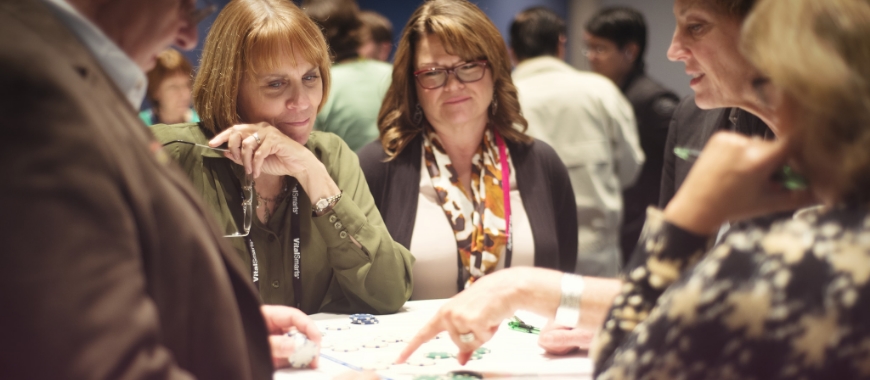 Allen Interactions Inc., an internationally acclaimed custom learning design, development, strategic consulting, and technology firm, announces key industry professionals as presenters for first ever Allen Interactions' Conference. The conference will be held September 22, 2014 in conjunction with Training Magazine's Online Learning Conference, in Chicago, IL at the McCormick Place Convention Center.
Allen Interactions, whose training, development, and technology are drastically changing the way businesses are creating custom e-learning content and courses, will be joined at the event by dozens of clients and partners, including Chief Learning Officer at Hilton Worldwide, Kimo Kippen, Director of Sales Learning at Pulte Group, Tynea Valentine, Director of Learning and Performance at AutoNation, Ken Gregson, and Senior Director of Global Learning and Development at Manhattan Associates, Stephanie Crowe, as well as other soon to be announced names. These presenters will discuss ways in which Allen Interactions is helping them create robust e-learning, training and talent development programs, resulting in real performance change, and offering substantial ROI.
"We are beyond honored to be joined by such impressive thought leaders from the e-learning industry," says Dr. Michael Allen, CEO of Allen Interactions. "The entire Allen Interactions team is excited to be joined side-by-side with these presenters to bring to life the goal of this event – helping learning professionals re-align their current training needs to focus on a company's greatest asset, its employees."
The conference will provide attendees with a day filled with relevant discussion topics, interactive panels, and hands-on workshops with fellow e-learning, training, and talent development professionals. Topics to be addressed include the Successive Approximation Model (SAM), the instructional design model Context, Challenge, Activity, Feedback (CCAF), and the premier authoring and publishing system for developing serious e-learning, ZebraZapps.
Attendees can register for the conference on Training Magazine's Site. The fee per attendee is $395. However, attendees can save $250* when they register for both the Allen Interactions User Conference and Training Magazine's Online Learning Conference by using discount code: TAA2.
About Allen Interactions Inc.
Allen Interactions creates powerful custom learning experiences that help achieve organizational business goals by improving performance one interaction at a time. With 20 years of deep experience and expertise in instructional design, technology, creativity, process, and project management, Allen Interactions consistently achieves positive business impact.
In 2009, the Company established Allen Learning Technologies to create a revolutionary, cloud-based authoring and publishing system, ZebraZapps, which allows developers and non-programmers to create rich interactive media applications, as well as share, publish, and sell objects or entire applications.