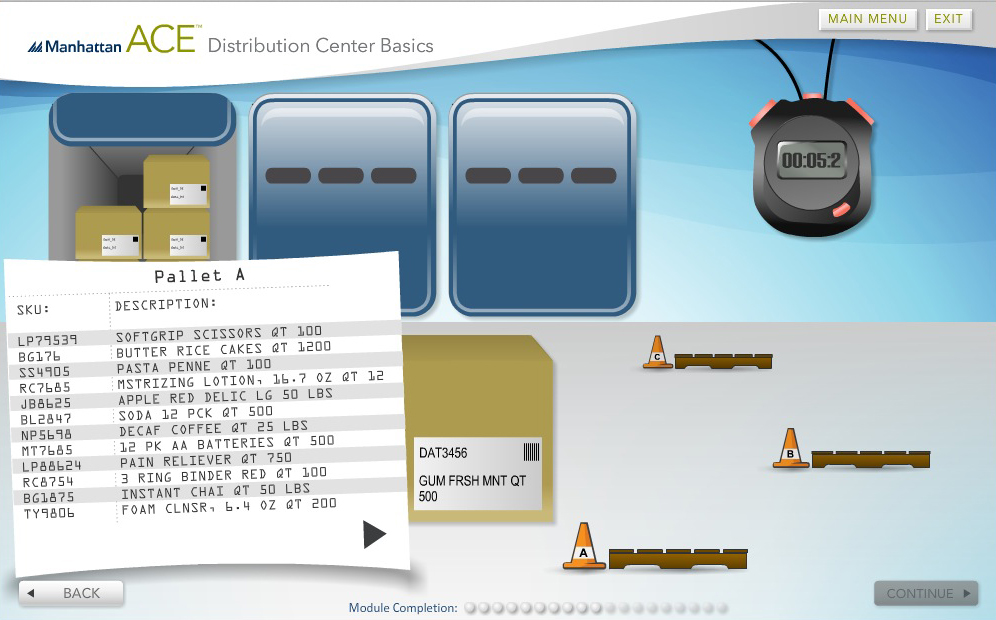 Allen Interactions was recognized a Communicator Award of Distinction in the category of Interactive Multimedia for the e-learning course with Manhattan Associates on Distribution Center Basics and another Communicator Award of Distinction with Google.
About Manhattan Associates – Distribution Center Basics
For Manhattan Associates, this award-winning e-learning course provides the opportunity to take a virtual tour of a typical Distribution Center. In this course, learners not only "tour" a Distribution Center, but also "try out" the activities performed, and experience first-hand the challenges to manual processes and benefits that the software-enabled optimization provides. Through the tour, learners meet the people who work in the Distribution Center and experience how they are motivated. To accomplish this, a series of mini-learning events build around each stop on the tour. Experiencing a virtual Distribution Center allows learners to employ context to their projects. Recognizing the role the Distribution Center plays in the supply chain provides learners with an understanding of how their work helps the success of the business and the success of Manhattan's clients.
With over 6000 entries received from across the US and around the world, the Communicator Awards is the largest and most competitive awards program honoring the creative excellence for communications professionals.
The Communicator Awards are judged and overseen by the Academy of Interactive and Visual Arts (AIVA), a 600+ member organization of leading professionals from various disciplines of the visual arts dedicated to embracing progress and the evolving nature of traditional and interactive media. Current IAVA membership represents a "Who's Who" of acclaimed media, advertising, and marketing firms including: AirType Studio, Condè Nast, Disney, Keller Crescent, Lockheed Martin, Monster.com, MTV, rabble+rouser, Time Inc., Tribal DDB, Yahoo!, and many others.
"We are both excited and amazed by the quality of work received for the 20th Annual Communicator Awards. This year's class of entries is a true reflection of the progressive and innovative nature of marketing and communications," noted Linda Day, executive director of the Academy Interactive and Visual Arts. She added, "On behalf of the entire Academy I want to applaud this year's Communicator Awards entrants and winners for their dedication to perfecting their craft as they continue to push the envelope of creativity."
About The Communicator Awards:
The Communicator Awards is the leading international awards program honoring creative excellence for communication professionals. Founded by communication professionals over a decade ago, The Communicator Awards is an annual competition honoring the best in advertising, corporate communications, public relations and identity work for print, video, interactive and audio. This year's Communicator Awards received thousands of entries from companies and agencies of all sizes, making it one of the largest awards of its kind in the world. Please visitwww.communicatorawards.com for more information.
The Communicator Awards is sanctioned and judged by the Academy of Interactive and Visual Arts, an invitation-only body consisting of top-tier professionals from a "Who's Who" of acclaimed media, advertising, and marketing firms. Please visitaiva.org for a full member list and more information.
About Allen Interactions:
Allen Interactions is an internationally-acclaimed company focused on improving performance through powerful learning experiences. For 20 years, Allen Interactions has designed and developed custom e-learning and blended learning solutions that address the widely varied performance goals of the world's leading organizations. With a wealth of experience and a track record of success in instructional design, technology, creativity, process, and project management, Allen Interactions consistently achieves positive business impact. In 2009, the company established Allen Learning Technologies to create a revolutionary, web-based authoring and publishing system, ZebraZapps, which empowers serious authors to create, publish, collaborate and share serious learning games and simulations – all via a professional grade, visual editor. For more information visit www.alleninteractions.com orwww.zebrazapps.info.