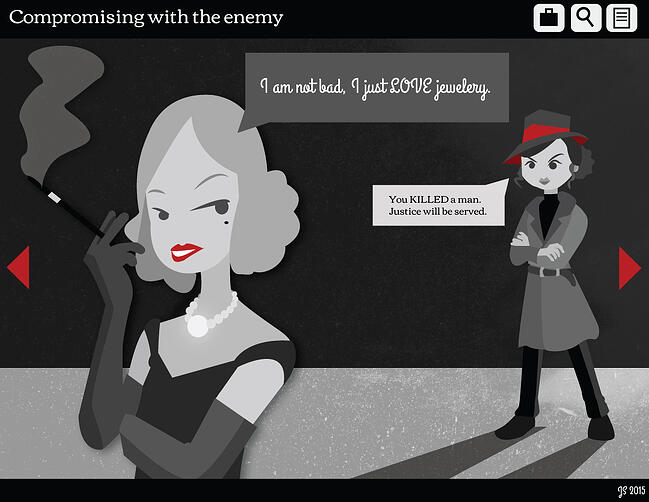 by Hannah von Bank, instructional writer
Everyone wants their course to be visually appealing, but there is rarely a consensus among the project team and stakeholders as to what that actually means. Going through the process of working, reworking, and scrapping designs is time-consuming for media artists and expensive for stakeholders—so what can we do about it?
To find out, I sat down with three fabulously talented media contract artists, who work with all kinds of clients. Here are their ideas to reduce stress on your graphic designers, and save your team time and money:
1. Show, Don't Tell
I want to create a conversation interaction that trains detectives to interrogate jewel thieves and I want it to be in the "film noir" art style. What do you imagine that course looks like? Do you think the image in your head is the same as the one in mine?
I asked each media artist to create this scene for me without looking at or discussing other's designs. Here's what they came up with: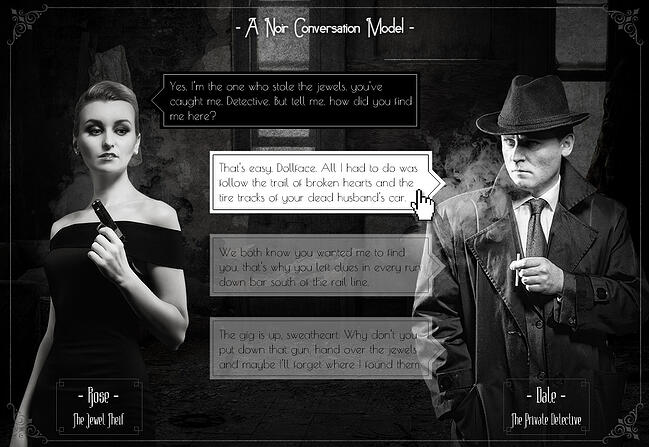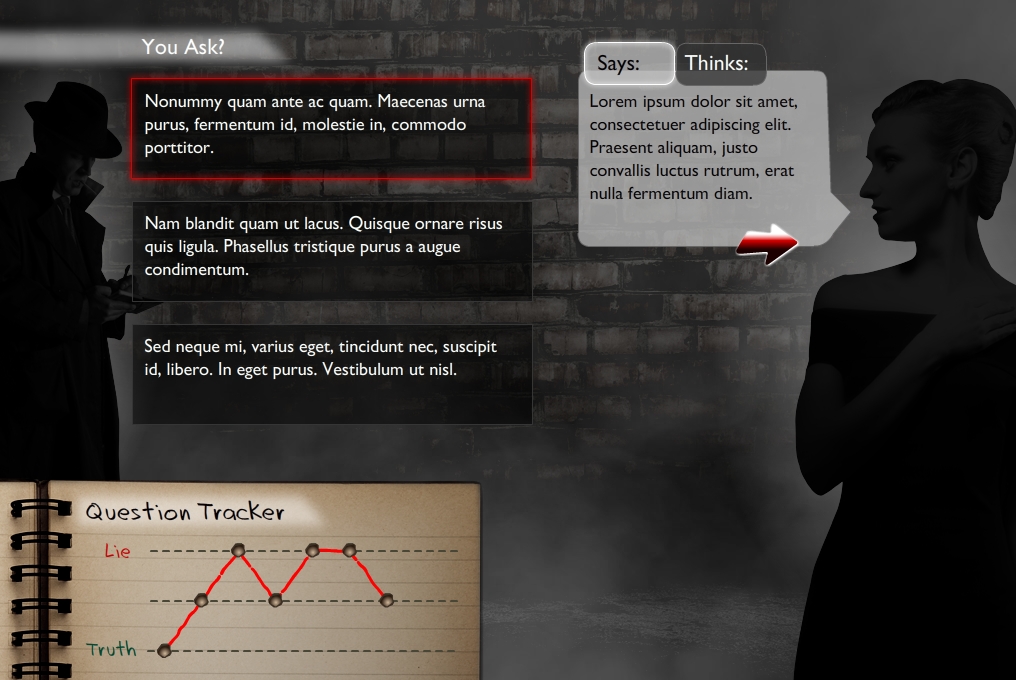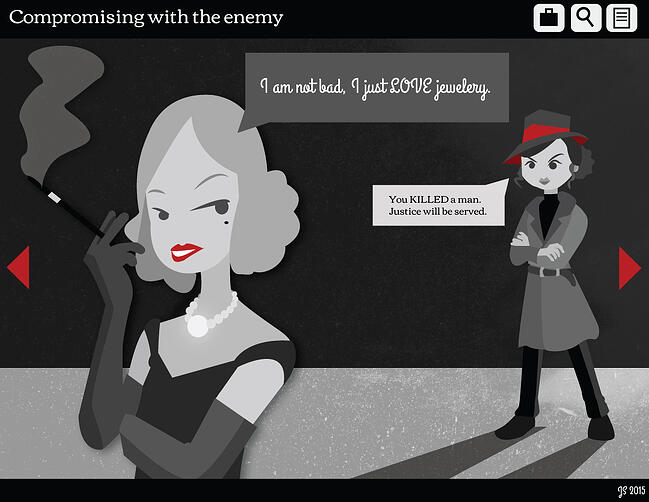 Pretty cool, right? And all are entirely unique.
If you have a specific vision for the look and feel of your course (and you probably do), do the media artists a favor and provide them with a reference. Media artists love it when stakeholders send them color schemes, sketches, video clips, and images that reflect the style they're going for. Bringing a visual representation of your ideas to a kick-off meeting also allows stakeholders to compare their visions, and prevents confusion and re-works later down the line.
"If a client says, 'Make that look more modern,' I don't know if my idea of modern is the same as theirs. Show me a couple examples and I have a much better picture." Says one artist.
2. Get Media Involved Early and Often
Look and feel is something that is typically incredibly important to stakeholders – so it is surprising that sometimes graphic designers are not looped into the conversation until after the initial design ideas have already been finalized. Help the media artists by inviting them to kick-off meetings and keeping them involved in client discussions. Doing so allows clients to communicate their ideas directly to the artist and gives the artist a chance to ask questions, show examples, and explain the reasoning behind their ideas. Sometimes there are limitations on what can be done graphically in a course - due to tool set, time constraints, or budget - that other teammates may not be aware of. Having a media artist present from the beginning sets expectations and assures that design ideas are realistic and understood by all.
3. When Giving Feedback, Identify Problems Not Solutions
Above all, media artists want their designs to be functional, visually appealing graphics that support the content and provide visual prompts to the learner. They make their choices for a reason, and while they are happy to work with clients to make changes, they'd prefer clients come to them with problems to brainstorm rather than pre-determined solutions. "I feel like we need to better emphasize this text" is a much easier request for a graphic designer to work with than "I want everything on this page to be red."
"Sometimes clients come to me with solutions that I can't implement – lightening a logo might work on this page, but it won't show up on the next one. The font you want to use won't fit in the space available unless we make it very tiny." Says a graphic designer, "If my design isn't supporting your team's vision of the course, then let's identify the reasons why and work together to find a solution that's practical."
4. Use media with purpose
Form follows function—or it should. Media choices, like instructional design choices, should never be made simply because they seem "cool." Certainly we want our courses to be attractive, but adding bling for bling's sake can quickly get unwieldy for your learners and your budget.
Says another media artist, "If we incorporate everyone's personal opinion, we end up with an expensive Frankenstein monster that no one is happy with. Too many bells and whistles is confusing for learners, and they are my first priority."
Take yourself out of the design and instead look for ways that media can support learning. If anything, less is usually more. For example, too much text eats up screen space but it can often be replaced by media. In the 21st century, do we really need to tell learners to "click the next button to move to the next page" or would a glowing arrow button serve the same purpose? Could an illustrated image set the context for your activity and allow you to cut down a lengthy intro paragraph? Now you are thinking strategically.
Graphic design is one of the most challenging and critical facets of designing an e-learning course—many media artists work tirelessly to create designs that are both visually appealing and functional, all while working within the parameters of branding requirements, tool limitations, and usually, the opposing visions of numerous stakeholders and teammates. On your next project, show your media artists some love and help them do their jobs efficiently and effectively. Your budget, and your learners will thank you.
Want to share this post? Here are some ready made tweets:
Click to Tweet: Reworking & scrapping designs is time-consuming for designers & expensive for stakeholders— so what can we do? http://hubs.ly/y0s8J60
Click to Tweet: Use these 4 tips to help your #elearning #graphicdesigners do their jobs efficiently and effectively. http://hubs.ly/y0s8J60
Click to Tweet: Here are 4 tips to help you collaborate effectively with your e-learning graphic designers! http://hubs.ly/y0s8J60 #elearningdesign