Pillar I Blog: Context
Pillar II Blog: Challenge
Designing great Activities is at the very core of creating e-learning that works. And the CCAF Design Model is a fantastic guide for thinking up instructional interactions that engage, challenge, and transform the learner to master new skills and enrich on-the-job performance.
CCAF, of course, is our shortcut for recalling that a good interaction needs meaningful CONTEXT, engaging CHALLENGE, productive ACTIVITY, and transformative FEEDBACK. I'm in the process of leading a series of four short online sessions, each focused on clarifying the meaning and significance of each CCAF pillar. This week we are up to ACTIVITY.
In the CCAF sense, Activity is at the very core of any instructional interaction. What the learner is literally asked to do has an enormous impact in creating focus, engaging full attention and senses, creating memories, and setting the model for transferring skills to the performance environment. Activity describes the specific gestures and actions that the learner undertakes in response to the Challenge. You can't actually have an interaction without the Activity part; the trick is to design activities that create learning.
Here are a few powerful ideas to guide you in designing the Activity component of CCAF. We'll be exploring these in the webinar.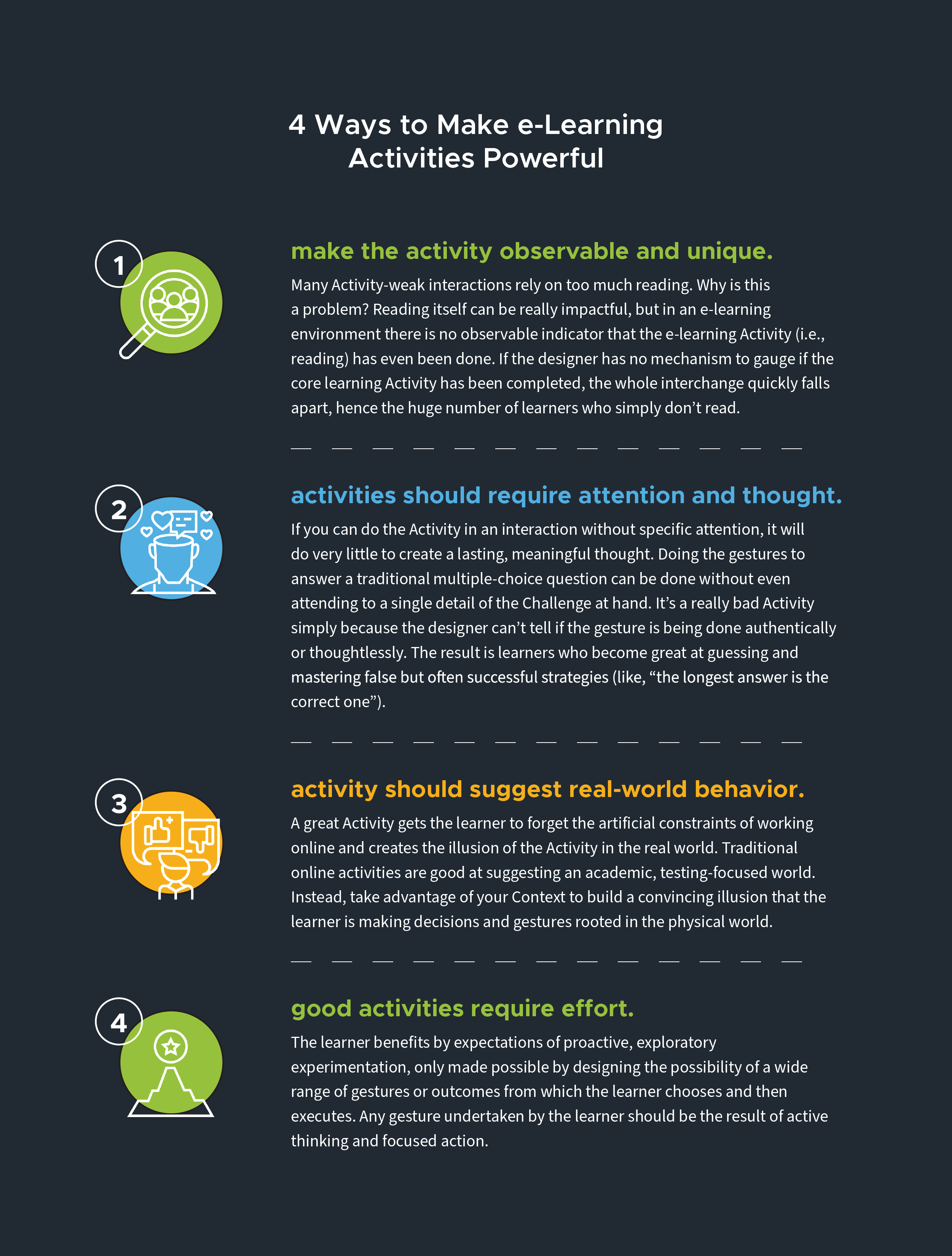 These are the core ideas I bring to the design table when working on an interaction. There are, of course, many ways to approach a problem, but I find beginning my design thinking with Activity often results in my most impactful custom e-learning solutions.
Join me in this session where we will dig a little deeper into these and related ideas, and as always, share the meaning of these ideas through demonstrations of real-world examples.
Pillar IV Blog: Feedback
---