by Hannah Hunter, instructional writer

There are some things that words just can't describe. Articulating a highly complex, branching e-learning instructional interaction or game is a daunting task for even the most experienced instructional designers. Trying to communicate to writers, developers, media artists, and clients exactly how the e-learning design will function is often challenging. I'd like to share with you a solution that worked for us recently (and hopefully can work for you, too): turn off your computer, herd your team into a conference room, and role play your ideas with a paper prototype!
For one of our clients, we designed a wonderfully creative, but incredibly complex interaction. As you can imagine, writing content for an open-world, multiple branching scenario with time dependent elements could leave us with a script filled with "if you choose A, turn to page X". How could we ensure that our e-learning design made logical sense based on all the options possible?
Well, we got out the Big Notepad.
We listed all the choices a learner could make in each area of the e-learning course and we drew a lot of really bad pictures. A teammate who had no prior knowledge of the game or its content played the part of the learner and made selections on our paper interface. I played the part of the development tool, sticking up feedback and options on giant Post-It® Notes as they were unlocked. Other teammates kept score and Ann provided narration and incredibly realistic sound effects.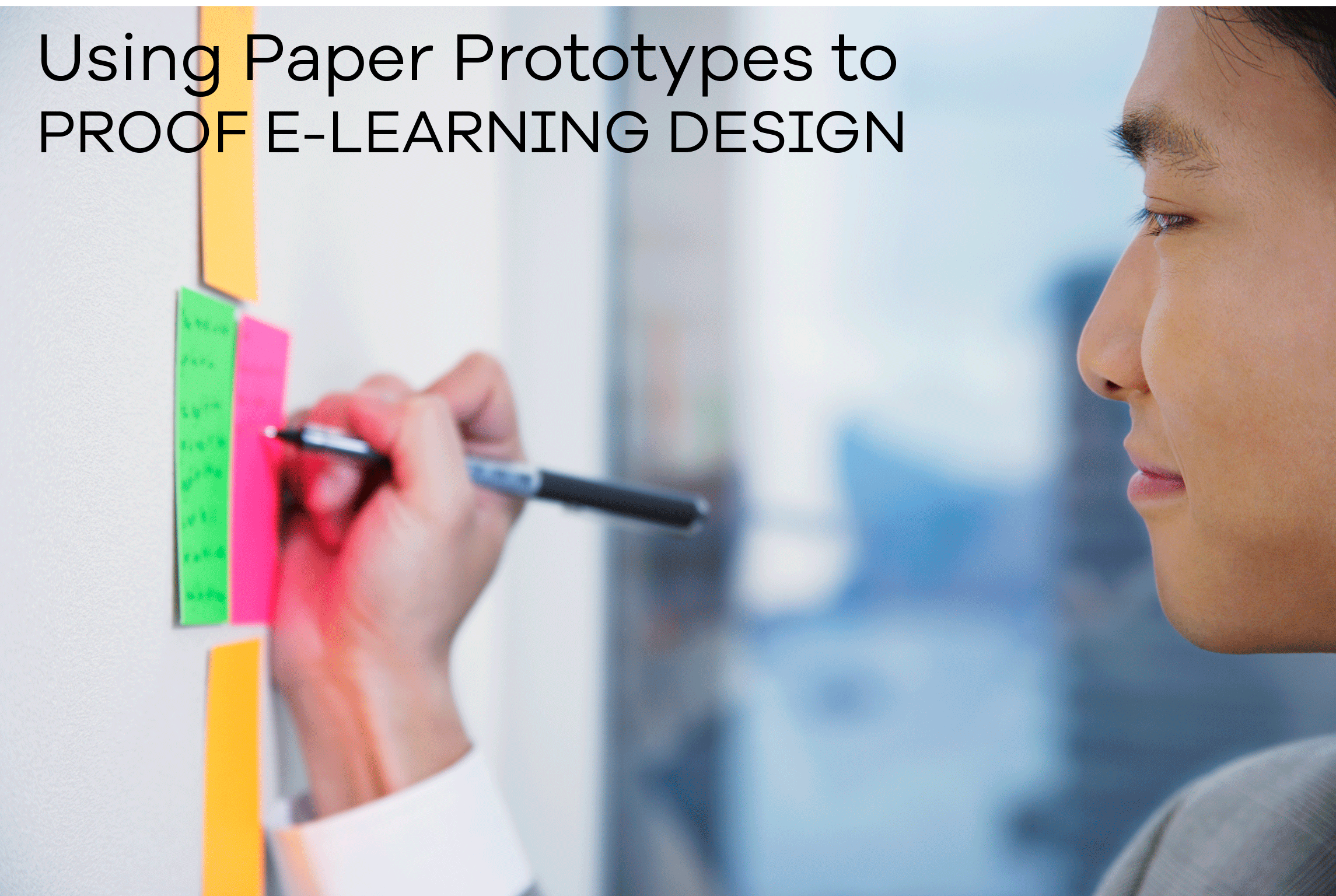 Within an hour, we were able to play through the game four times and accomplish what we would have been unable to do with our static script: confirm that the game 1) worked, 2) was of the appropriate difficulty for learners, and 3) made sense to the developers from a programming standpoint. We also laughed, had fun, and got to color with markers!
Our very talented development intern, Mark Robins, attended a workshop on paper prototyping at the 2015 Game Design Conference in San Francisco. When he showed us what he learned, we immediately knew that we wanted to add paper prototyping to our Instructional Design tool box. Here's why you should too:
1. It's fast, inexpensive and disposable.
Paper prototyping has all the qualities that make for a great prototype. First, it is fast. I am not a developer and while my PowerPoint skills are not terrible, it still takes more time than I'd want to invest on a test object. With a paper prototype, I can build and test an entire course right at my desk, with no technical skill needed whatsoever! And, because no technology is needed when using this method, the entire team can be more involved in the process. The cost is minimal, only supplies you likely have around the office: Post-It® Notes, markers and flipchart paper. And, most importantly, it's very disposable. If the idea is not going to work, you simply throw away the documents and start over. There is no concern about sunk costs or wasted time.
2. It's an easy way to conduct early user tests.
If you want to test your ideas before committing the time and effort to build them in a development tool, paper paper is the way to go. Our prototyping session uncovered usability issues that we would not have seen otherwise, and we were able to fix them right away without having to re-program anything. This technique is commonplace among game designers. In fact, big names like Microsoft and IBM have been using paper-prototypes for decades.
3. You can communicate complex ideas with your team and your client.
"If learner clicks the red car, then the green sign lights up and narration #22 plays UNLESS it has been more than 30 seconds since the previous click OR the blue sign was selected first in which case narration #12 plays and the dog animation begins in the left bottom corner…"
I cannot imagine how anyone on my team, let alone a client, could understand this gibberish―I mean, I don't get it and I wrote it!
Courses that are particularly media heavy or that contain a lot of complex logic are very hard to script in a way that everyone involved is going to understand. IDs, media artists, and developers need to consider very different, and sometimes opposing, things when reading the content and instructional directions. Even if the internal team is on the same page, you still need to convey your ideas to the project stakeholders, most of whom likely are not e-learning or technology experts. In these situations, a Word document just isn't going to cut it. Paper prototyping allows you to communicate your ideas logically and visually without the limitations of text.
Have you encountered any interesting instructional design challenges lately? How did you solve them? Tell us in the comments below!
Want to share this post? Here are some ready made tweets:
Click to tweet: An instructional writer shares three reasons to use paper prototypes to proof #elearningdesigns http://hubs.ly/y0Lc_S0 @customelearning
Click to tweet: The power of #paperprototyping illustrated and support for how it proofs out #elearningdesigns http://hubs.ly/y0Ldbs0 @customelearning