In our last blog, we explored how critical trust is in the sales enablement process and the important role that context plays in providing value to the learner. In this edition, we will explore the final two high notes that sales enablement training can provide and how they can create exceptional learner, employee, and client experiences.

Read Now: Hitting the High Notes: How Great Training Leads To More Sales & Better ROI »

High Note #2: Willingness to Try

Going back to the diet/exercise example used in our first installation of the blog series, if a program doesn't seem to fit our lifestyle or seems too difficult, it becomes a non-starter.  The best programs include many components including levels, menus, practice guidelines, progress goals, and most importantly, a coach.  Therefore, effective sales enablement training must provide authentic practice with levels, goals, feedback, and coaching.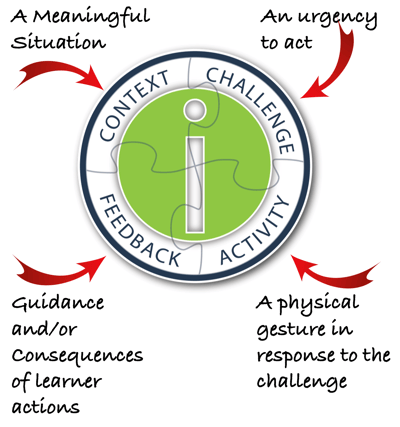 Traditional learning design focuses on knowledge transfer and limited practice.  Through the use of CCAF-driven scenarios with simulated challenges and by following the principles of the Serious eLearning Manifesto, the learning mimics the actual user experience of real-world tasks to be achieved.  Too many times learners gain all the knowledge provided, ace the assessments, and then find the job is much more complex and stressful than the training environment.  When this happens, the motivation to try is completely lost. 

Using a practice-to-mastery approach within authentic activities that are meaningful, memorable, and motivational, learners have a sense of familiarity with the job on day one.


High Note #3: Make it Right!

No matter how effective the training program is designed, the most difficult task is to convince learners to take the advice of Winston Churchill and "never, ever give up."  However, as we have all experienced on the job and in life, even when we do everything right, bad things can still happen.  Therefore, though seemingly disruptive, the approach of the no-win scenario should be included in the learning solution.  By having learners take all the right steps and make all the right decisions and still fail to achieve success in sales, feedback can be provided to recognize their accomplishments while teaching the reality of a less than 100% success rate.  A 10% success rate in sales is often considered a lofty goal.  A 10% success rate with a nearly 100% compliance rate with the best practices being executed.

We encourage you to review your sales enablement training, talk to your most recent learners and their supervisors, and determine if your program gained their trust, as well as if they felt comfortable trying it on day one, and if they continue to stick to the desired behaviors day after day.

For examples of effective Sales Enablement Training Solutions, please visit:  https://www.alleninteractions.com/sales-enablement

Are You Ready to Take Your Sales Team to the Next Level?
For over 30 years, the world's most premiere companies have built award-winning training programs with Allen Interactions. Is yours next? Contact Us to discover how we've transformed sales teams, boosted ROI, and created measurable performance results.