by Ellen Burns-Johnson, instructional writer/designer | @EllenBJohnson

More than 200 participants joined last week's 30-minute complimentary webinar: Three Quick Design Ideas for Creating Learner-Centric Designs. If you were able to attend, thank you for joining—and thanks for your kind words, insightful questions, and constructive feedback!
During the webinar we discussed several techniques for creating interactive e-learning designs that focus on the learner. The specific techniques aligned with these three high-level strategies:
Ask for the learner's opinion
Make the learner's choices count
Make it about the learner from the start
There were several good questions that we weren't able to address during the session, so I've selected a few of these to answer below.
"Do you think this concept applies to technical/software application training when there are hard and fast processes and steps?"
It's true that some processes are very linear, with clearly defined steps and sequences. Software may usually provide different ways for users to complete a task, but in general there aren't many opportunities to explore the gradients of practice that typically exist in other types of training, like sales or customer service.
Despite the linear nature of technical and software tasks, this type of training can be designed in an engaging, learner-centered way. Simulations are one way to do this.
While demonstration videos and step-by-step guides can be helpful, simulations up the challenge by requiring the learner to complete the task without always being told exactly where to click or what to type. In a simulation, learners aren't given specific direction at every turn; instead, they're given a general outline of what needs to be done for each step. This means that learners test their own hypotheses about the task, and then learn from the results of their actions. The learner's choices help them gain a deeper, more intuitive understanding of the task at hand.
If you're interested in digging deeper into how simulations work, you may find it helpful to take a look at the New York University Medical Software training solution on our e-Learning Demos page.
"Since I train for sales I'm not sure how to transfer these principles from task driven into how to have conversations."
It can be a challenge to create training for communication skills, because it can often be difficult to pin down best practices for them. Usually, improving these "soft" skills is not a matter of training people to use strictly defined phrasing (though this can be the case); it's more about getting people to say the appropriate kinds of words at the appropriate times.
E-learning that's designed to train conversational skills often takes the form of a simulated conversation, where learners consider many different correct and incorrect examples of phrasing and tone. They practice choosing these words at the appropriate times within an interactive dialog, receiving coach feedback along the way. Repeating this process across multiple scenarios helps learners hone their conversational skills in much the same way that they would if they were conversing directly with a variety of customers.
An example of conversational training can be seen in the Kaiser Permanente Pediatric Weight Management e-learning example on our e-Learning Demos page.
"How do suggest handling background information (or new content) that is necessary for before getting into skills training?"
This is such a common challenge in e-learning development—what to do with all that content! As a colleague pointed out in a recent blog post, training is rarely about knowing. It's almost always about doing. So when I'm faced with a stack of material that learners "need to know," I try to find out how they're expected to use that information and then incorporate that part of the experience into the interactivity.
One way to do this is to create an interaction about the information itself. This is often appropriate if the material needs to be memorized. For example, let's imagine that we're being asked to create sales training for a new line of running shoes. The skills learners need to have by the end of the training are:
Memorize the features and benefits of the 3 new shoes
Recommend the appropriate running shoe to 4 different types of customers
Now, we could try to address the first skill by presenting the learner with a set of slides that describe the features and benefits of the product, but that wouldn't do much to help the learner memorize these details. Memorization takes practice—the kind of practice that would be perfect for an e-learning interaction.
A second way to incorporate "need to know" information is to include it as a resource within a more complex interaction. For our running shoe example, we might decide to create an e-learning exercise where learners match one of the three new shoes to specific customer profiles. Within that interaction, we could provide a pop-up window that lists the features and benefits of each shoe.
If you're looking to get an idea of how this resource functionality can work, take a look at the "Recognize Indicators" interaction within the California Commission on POST Gangs: PC 186.22 for Patrol course on our e-Learning Demos page, and browse through the "Gangs 411" tool at the top.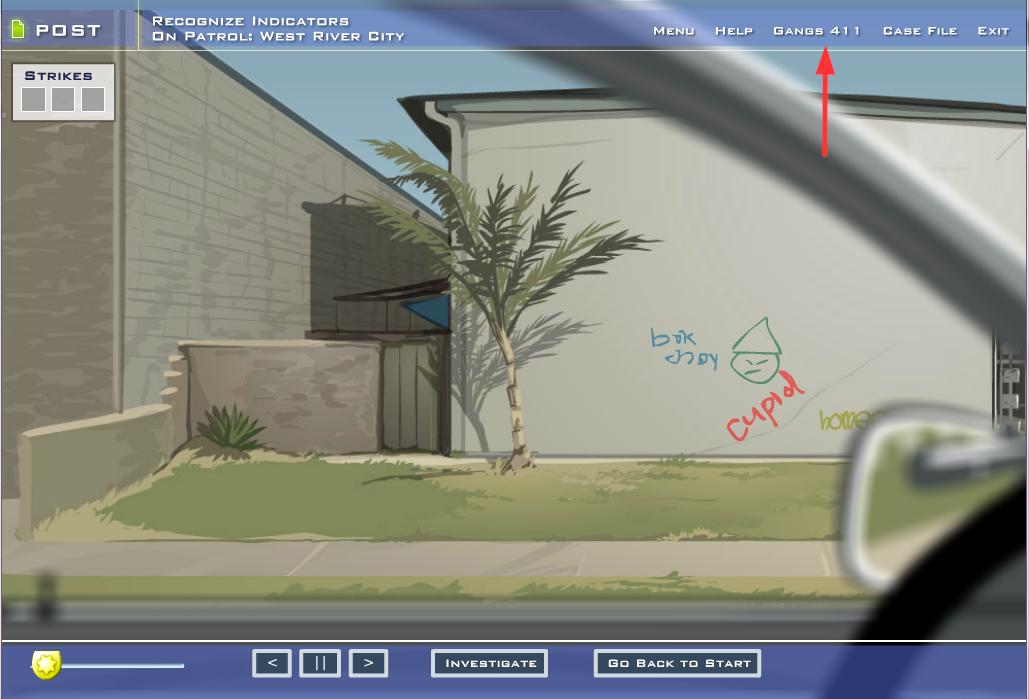 "In regards to objectives, I find that they are off-putting to learners. Do you have a suggestion to avoid this entirely?"
Sure. I've seen many successful e-learning courses completely skip the objectives screen! These courses often use the menu to convey the scope of the course and the types of interactions within it.
To return to an earlier example, our running shoe training might have a menu like this:
Velociraptor Running Shoes
New Product Launch 2015
Course Menu:
Drill & Practice: Shoe features and benefits

Matching Exercise: Customer types and shoes
Using this method, it's important to phrase the titles of each section in a way that conveys what the learner will have to do to complete it. This then becomes an effective method for setting learners' expectations about what they'll be required to do.
Upcoming webinars and events
Thanks again to all who joined last week's session! Visit our Upcoming Events and Talks page to check out what webinars and conferences we have coming up!
Share this post with one of these ready-made tweets!
Click to tweet: Get practical advice from @EllenBJohnson for creating #interactiveelearning focused on the learner http://hubs.ly/y0KyZX0 @customelearning
Click to tweet: @EllenBJohnson shares recent webinar Q&A on three quick ideas for learner-centric #elearningdesigns http://hubs.ly/y0KyZX0 @customelearning