By Ann Iverson, Senior Instructional Designer
In last month's ID Essentials blog, we were instructional designers at World of Wings, Inc., a commercial airline dedicated to safety. We covered how to unpack those big, overstuffed objectives by first aligning them with business goals and then breaking them apart into smaller tasks. Now, let's turn to a new issue at World of Wings.
Safety numbers are in, and World of Wings continues to see low performance from its maintenance technicians. World of Wings wants to reduce both the severity and frequency of injuries that occur in the company's maintenance hangars. Because many facilities emphasize and reward production output as a priority, World of Wings has found that employees take dangerous shortcuts to save time and maximize production. Those shortcuts often result in injury. Company stakeholders have agreed that training is essential for eliminating safety errors.
We meet with SMEs to get some background information and define the course. They explain that they want an e-learning onboarding safety course – no more than 10 minutes. They also bring along their list of 10 objectives:
Be aware of the 10 safety principles and how they provide a foundation for the company's safety culture.

Know the safety policies to protect World of Wings property and people.

Wear the appropriate Personal Protection Equipment (PPE) for the employee's role.

Identify and control common hazards at the maintenance hangar.

Understand the employee's role in safety maintenance and communication.

Report any adverse information concerning employee safety and security violations.

Recall facts related to Safety Data Sheets, including chemical storage and spill containment.

Take the right steps in emergency situations such as fires, injuries, and natural disasters.

Know the emergency exits in the employee's facility.

Employ personal safety strategies to reduce risk of workplace violence.
Where, oh, where do we begin? Our ID instinct tells us that there's just too much stuff for one 10-minute course, but how do we respond? We conclude that we have two options:
Option A:
Accept all 10 objectives as they are and try to design the course to touch on each one briefly. After all, we need to keep our stakeholders happy. We're also delivering an onboarding course, so why not give learners a taste of everything?
Option B:
Recognize that we'll dilute the course if we try to do too much. Decide to go back to our SMEs to get a better idea of their goals and priorities.
Let's go with Option B. However, we still need to do some work before our stakeholder meeting. Following are three steps to help design the courseware so learners can do their jobs safely immediately after completing the course.
Step 1: Differentiate the KNOW and DO
Learners need to KNOW and DO things to keep themselves and others safe on the job. Content-focused design involves information that learners need to KNOW, but this is not the best use of e-learning. Because we've read all of Dr. Allen's books, we know that the CCAF (context, challenge, activity, feedback) design method is the best and fastest way to change behavior. Using CCAF, we immerse learners in their real work environment and present them with challenging situations to practice the desired performance.
While we prefer the CCAF approach, our SMEs may need some convincing. Before we meet with them, let's organize the objectives into KNOW versus DO to help support a CCAF course design. We can create an objective table like this: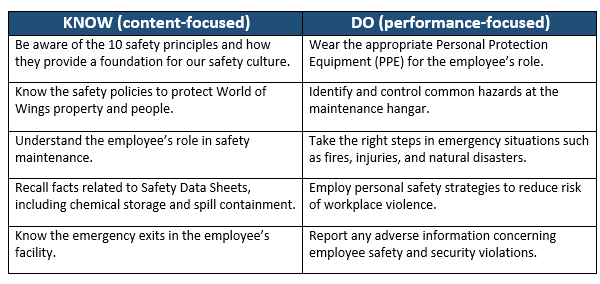 Step 2: Focus on the DO
When presenting our table to SMEs, we explain that we didn't revise their objectives – we simply organized them into the KNOW and DO categories. We also explain the CCAF design and how this approach increases learning and performance by allowing learners to practice the exact skills they need on the job. And, since we don't have a lot of time for theory to build confidence and competence, we want to get to the point! Amazingly, every SME agrees with us and is eager to create a course that's engaging and fun. We now ask our SMEs a key question to help focus on the DO:
Which objectives don't present a real safety challenge for learners, and can be addressed with non-interactive content (e.g., job aids, reference materials, etc.)?
Our SMEs agree that all of the content-focused objectives can be met with training materials and performance support tools, so now we can focus solely on the DO column. (Of course, we aren't always so lucky, but we really like the SMEs who are agreeable and collaborative!)
Step 3: Prioritize the DO
We've now focused our SMEs on the five performance-focused objectives and can ask them to help us prioritize the list to unpack it even further. We ask:
Can you please choose the top three objectives from this list of five?
Some of the brightest SMEs in the group make these comments:
One of the objectives relates to workplace violence. Maybe we should focus this safety onboarding course just on safety.
Reporting employee safety violations is too much for a new hire. That should be covered in the next course.
With those two statements, we've now landed on three strong performance-based objectives, which seem achievable in a 10-minute course.
Nice work! We're now ready to move into design! Tell us your biggest design challenges and we'll try to work them into the next blog.
Follow along in the ID Essentials series by Ann Iverson for practical tips and advice to apply directly to your e-learning designs for maximum performance outcomes.
Read Last Month's ID essentials blog, Four Simple Steps to Unpack Objectives.
SHARE THIS BLOG WITH THE READY-MADE TWEET BELOW!

CLICK TO TWEET: #IDEssentials: Three Steps When There's Too Much Content for One Course http://hubs.ly/H05BcGf0 #eLearning