by Richard Sites, vice president - client services | @rhillsites
Each year, there is a flurry of excitement when the efforts of our team and our clients are realized in the form of industry award recognition. But this year, we are over the moon with excitement and pride as Dr. Michael Allen will be honored with the Ellis Island Medal of Honor at a black-tie gala reception in the historic Great Hall on Ellis Island next week!
The Ellis Island Medal of Honor is a prestigious award to honor Americans who exemplify outstanding qualities in both their personal and professional lives, while continuing to preserve the distinct values and rich heritage of their ancestors. Previous recipients of the Medal of Honor have included Presidents, Senators, statesmen, athletes, major entertainment personalities, Noble Laureates, educators, business and religious leaders. The medals were conceived to pay tribute to the immigrant experience, remarkable individual achievements and above all, the spirit that makes American unique among nations.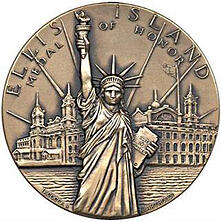 In his work ranging from projects funded by the National Institutes of Health, the National Science Foundation, Control Data Corporation, and Allen Interactions, Dr. Allen's work has contributed to the first Internet-based solution demonstrated to reduce the spread of HIV, reduction in school gang violence, and academic success by those failing in traditional education.
Born in rural Iowa to a school teacher mother and a farmer father whose own father had lost all his land in the Great Depression, young Michael Allen was influenced by his mother's love of learning and his father's entrepreneurship. This determination and passion propelled him to focus his efforts on making learning better.
And, this love of learning and entrepreneurial spirit is infectious. As anyone who has had the opportunity to meet and talk to him knows, he is passionate about the industry and the tools we use, but his true mission is to help every person achieve his or her full potential. This belief has driven him to write a series of best-selling books for industry professionals and build tools, like Authorware and now ZebraZapps which allows for easier development of meaningful, memorable and motivational learning.
Here at Allen Interactions, we are encouraged to be creative, to be strategic partners with our clients but to work, first and foremost, for the benefit of the learner. While we typically work with Fortune 100 companies, we also do quite a bit of work for causes that we believe in, such as courseware for e-Learning for Kids Foundation and Operation Lifesaver.