by Ethan Edwards, chief instructional strategist
This weekend I rode my bicycle in the Moonlight Ramble, a 19-mile midnight bike ride through the streets of St. Louis. This was the 47th year for the ride and I'm told that typically as many as 15,000 riders participate; I'll have to take their word for it as there were too many to count! While I'm glad I rode the route, I couldn't help but wonder what motivated so many people to come out for an event, that in so many ways, was not really that enjoyable. It was uncomfortably crowded, it didn't get going until almost 1:30 in the morning, and the route wasn't really very interesting. Yet 15,000 people were motivated to enthusiastically finish it.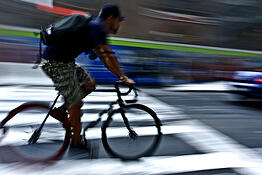 We're faced with a similar issue in training—and specifically with e-learning: how to create motivation in learners to do something that they probably wouldn't choose to do on their own. This event reminded me of some simple, cheap, and powerful things that we too often fail to do when implementing e-learning courses.
Create curricula and courses of study with an identity. Call it the "Moonlight Ramble" and people want to go; call it "19 miles through city streets in the dark" and it sounds like punishment. Just like "The XYZ Leadership Passport" can be something recognizable, unlike 19 undifferentiated lessons on an LMS menu. Create a logo or graphic that becomes a visual and immediately-recognizable identifier of each course.
Engage in advance marketing. I think trainers are far too apologetic about training events—leading with the message "We're sorry, but you're required to do this" instead of "We are so pleased to be making this opportunity available to you." Distribute promotional emails, plan registration events, create partnerships with internal or external co-sponsors.
Engage the community. e-Learning can be isolating, but it need not be. Create teams, create a community of simultaneous learners with discussion boards, encourage support networds, celebrate completion with public recognition.
Provide tangible evidence of completion. All sorts of things—some free, some costly-- can be used to publicly recognize effort: a printed certificate, a program-logo coffee mug, listing on a hall-of-fame, access to a preferred parking for a week, invitation to a Friday lunch cook-out, a gift card to a local restaurant. The actual value of the recognition is not nearly as critical as the cultural value your organization places on it. But it is really so much easier to focus and use that attention productively with some tangible symbol.
So while you continue to strive for improving the actual instructional design of your e-learning, don't forget that there a lot of things that have comparatively little to do with actual instruction, but everything to do with achieving success within your organization.