The end of June and beginning of July is a busy time here at Allen Interactions. We've been working on a lot of new content and are excited to share it with you. First up, we've got a webinar in collaboration with SABA this afternoon. If you missed Angel Green's Premium Training Webinar back in February regarding Allen Interactions' Taxonomy Alignment for Gaming (TAG) then be sure to check out today's webinar—The Gamification of e-Learning.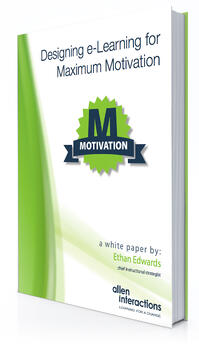 On Thursday, Angel will continue to share her Instructional Design knowledge with a new Premium Training Webinar, Design Thinking for the Instructional Designer. This two-hour webinar will discuss the power of design thinking, human centered design and the creative process, walking you through an instructional designer guide engineered to tap into your (and your project team's) creative power. It's not too late to snag a free seat in our give-away.
Angel Green hasn't been the only one active around here. Ethan Edwards will also be sharing his instructional design expertise in the weeks to come. Beginning with a Training Magazine hosted event, Ethan will present Designing e-Learning for Maximum Motivation on July 1. In this webinar, Ethan will explore the importance of motivation in the design framework for e-learning and present guidelines for creating maximally motivating e-learning.
And finally, in an ASTD collaboration—10 Ways to Ruin Your e-Learning: A How-To Guide in Reverse, join Ethan on a journey to uncover the 10 most common design practices that are plaguing e-learning today.
Like we said, it will be a busy next couple of weeks! We hope that you will join us for some, if not all of these webinars!