GUEST BLOGGER:
Tim Reed, instructional designer, Manhattan Associates, Inc.
Why is SAM my BFF? Simply put, SAM (the Successive Approximation Model) possesses all the qualities any instructional designer could ever want in a design and development process. SAM offers honesty, support, friendliness, and reliability to any learning initiative.
Honesty
SAM keeps it real. Unfortunately, many of us learn the hard way that perfection is not only impossible, but it is also inefficient, ineffective, and costly. SAM shoots straight and shows you, up front, where to focus your energy and resources. SAM keeps you focused on the product through multiple iterations. By doing so we learn as much as we can "about the developing product as early and continuously as possible" (Allen & Sites, 2012, p. 30). When you remain focused on the product, you tend to make fewer and less costly mistakes earlier in the life of your course.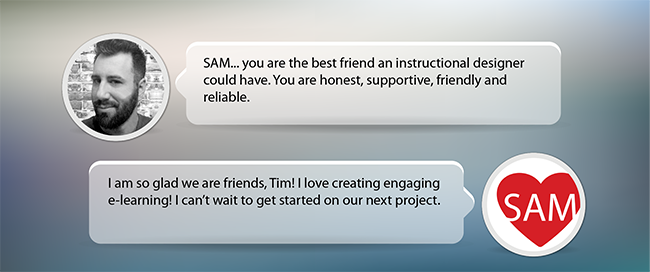 Support
SAM supports efficiency and collaboration by involving an entire team of individuals throughout the design and development process including designers, strategists, developers, subject matter experts (SMEs), and subject matter enthusiasts (SMEns). SAM allows us to make the most of their "ideas, opinions, experiences, and knowledge" (p. 31). Each member of the team lends their efforts, intelligence, and creativity to the development of a highly effective learning experience. Often, this team effort produces creativity, innovation, and efficiency previously unrealized.
Friendliness
SAM honors the friendship established between instructional designers and ADDIE. SAM embraces the concepts contained within ADDIE, but provides a new perspective on this age old methodology. The game doesn't change for instructional designers; it's how we play the game that changes. SAM clarifies "where and when to focus energy and resources for maximum benefit" (p. 32). Instead of wasting time reaching for perfection, we can leverage our existing knowledge of instructional principles as well as the efforts of SMEs and SMEns—doing so saves time, effort, and energy. It also strengthens your relationship with SMEs and SMEns by involving them early in the process and by keeping them engaged. The end product provides a tangible result that demonstrates where and how you spent your effort.
Reliability
SAM provides a manageable and repeatable process that produces consistent results. SAM's clearly outlined steps, collaboration-friendly style, and familiar tasks provide unparalleled consistency. SAM enables you to produce highly effective learning experiences that remain "within time and budget expectations, predict the impact of in-process changes, and produce a product that meets established criteria for quality" each and every time (p. 33).
The implementation of SAM into your next learning product might not make you a company hero, but it's sure to streamline your workflow and make your life a little easier.
Click here for more information on the Successive Approximation Model.
---
Tim Reed is an instructional designer at Manhattan Associates. Tim was first exposed to SAM when Manhattan Associates partnered with Allen Interactions to design and develop a series of award winning e-learning courses. Tim and the team of instructional designers at Manhattan now use SAM for all internal projects.
Tim is currently pursuing a master's degree in communication with a focus on public relations and new media. In his spare time, Tim enjoys reading, writing, cooking, and spending quality time with friends and family. Connect with Tim on LinkedIn.
---
References
Allen, M. & Sites, R. (2012). Leaving ADDIE for SAM: an agile model for developing the best learning experiences. Danvers, MA: ASTD Press.