Training Industry today announced its selections for the 2022 Top Training Companies™ lists for the Advanced Learning Technologies sector of the corporate learning and development (L&D) market. Training Industry, the leading research and information resource for corporate learning leaders, prepares the Training Industry Top 20 report on critical sectors of the corporate training marketplace to better inform professionals about the best and most innovative providers of training services and technologies.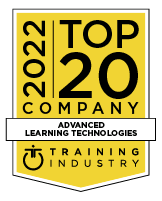 Allen Interactions is thrilled to be included in the inaugural list of learning technology providers. The exponential pace of technology requires a development team that is always ahead of the curve. Our team of PhDs, researchers, enterprise mobile engineers, software architects, and instructional designers deliver world-class solutions and services that produce measurable results.
Selection to the 2022 Training Industry Top Advanced Learning Technologies Companies lists was based on the following criteria:
Quality and advancement of technology solutions, features, and capabilities.

Industry visibility, innovation, and impact in the learning technologies training market.

Client and user representation.

Business performance and growth.
"We are excited to announce our first annual Top 20 Advanced Learning Technologies Companies List, representing innovative providers delivering cutting-edge technology solutions and tools to enhance the learning experience. These companies are using advanced technologies to solve business problems in innovative ways and to keep learners engaged while getting real-time results through technologies like artificial intelligence and advanced development/authoring tools."

-Jessica Schue, Market Research Analyst, Training Industry
About Training Industry, Inc.
Training Industry is the most trusted source of information on the business of learning. Our authority is built on deep ties with more than 450 expert contributors who share insights and actionable information with their peers. Training Industry's courses, live events, articles, magazines, webinars, podcasts, research, and reports generate more than 10 million industry interactions each year, while the Top 20 Training Companies Lists help business leaders find the right training partners.
Visit us at DevLearn to see how we're transforming the future of human performance!