Training Industry has announced the 2022 Top Custom Content Development Companies and Allen Interactions is honored to be recognized.
"It is an honor to be recognized as a top content development team. Our learning experience designers, producers, media, and development teams are passionate about creating experience-based, effective e-learning that truly aligns performance outcomes with our client's business goals."

- Zarir Erani, Allen Interactions President & CEO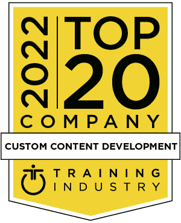 Training Industry announced its selections for the 2022 Top 20 List for Custom Content Development Companies. This list is an annual compilation of the best providers of custom content development that offer a breadth of capabilities and services. It is designed to help buy-side organizations in their search for the right training partners.
Training Industry selects its Top 20 Companies based on thorough analysis of capabilities, experience, and expertise. Custom content development primarily includes custom instructional course design and development for external use. It encapsulates the creation of learning programs from initial design to finished product. The companies listed have the ability to develop multiple types of learning content and offer a variety of content development services.
Selection of this year's Top Custom Content Development Companies List was based on the following criteria:
Breadth and quality of content developed, and services offered

Industry visibility, innovation, and impact in the learning services training market

Client representation

Business performance and growth
About Allen Interactions [AI]
Allen Interactions is an end-to-end performance improvement agency specializing in custom learning and technology solutions to help organizations achieve workplace transformation and human behavior change.
With over three decades of deep experience, AI partners with organizations on a variety of performance ecosystem initiatives including learning strategy, custom learning development, technology and automation, software engineering, change management, and talent staffing. Their passion is to always deliver Meaningful, Memorable, Motivational, and Measurable experiences that are laser-focused on each organization's unique performance improvement goals and needs.
AI's CCAF and SAM design and development approaches, developed by Founder and eLearning Trailblazer, Dr. Michael Allen, have helped AI remain at the top of the industry. They have had the honor of educating thousands of professionals and organizations about e-learning design and development principles for building true instructional interactivity for performance-changing learning.
About Training Industry
Training Industry is a highly-regarded, trusted source of information on the business of learning. They serve as an expert resource for learning professionals seeking information about best practices and innovative approaches. Training Industry creates an environment for trust and information-sharing among learning professionals, including those in the learning and development function, and experts from companies serving the training industry.
---