By Ethan Edwards, Chief Instructional Strategist / @ethanedwards

I had the pleasure to spend some time earlier this month in the Cooper Hewitt, Smithsonian Design Museum in New York City. It is great to be reminded of the design aspect of instructional design. So often we get obsessed with the technical and management aspects of creating e-learning that the importance of powerful design thinking gets overlooked.
In addition to the outstanding permanent collection, the museum was hosting a special exhibit, Pixar: The Design of a Story, on exhibit through August 7, 2016. The exhibit examines how Pixar Studios goes about creating the stories that are at the root of its most popular motion pictures of recent years. It was especially inspiring to see that the key elements that Pixar designers attribute for the success of their works are nearly identical to the principle components that drive the SAM design and development process. (Michael Allen has written about this process extensively; see Leaving ADDIE for SAM).
Here's a panel from the special exhibit in which John Lasseter, Chief Creative Officer at Pixar and Walt Disney Animation Studios, characterizes the studio's approach to designing successful stories: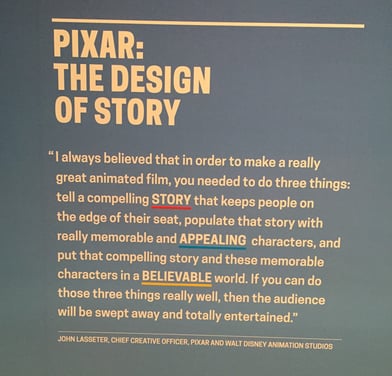 With just a few changes to this quote, one can express precisely that which goes into creating engaging interactivity:
In order to make a really great e-learning module, you need to do three things:
1. Present a MOTIVATING CHALLENGE or NARRATIVE that keeps people on the edge of their seats.
2. Populate that challenge with really MEMORABLE, MEANINGFUL, and APPEALING elements.
3. Put the learner to work intrigued by that compelling context and the memorable challenge in BELIEVABLE ACTIONS that suggest real-world behaviors.
If you do these three things really well, then the learner will be swept away and totally engaged.
In other words, this is a design approach that completely supports the THREE SUCCESS FACTORS that form the foundation of the design methodology that informs the Allen Interactions approach to e-learning:
Enhance learner motivation

Enhance behavioral outcomes

Provide Meaningful & Memorable learning experiences
The parallels between these disciplines extend even further. Most of the Cooper Hewitt exhibit displayed many of the rough drafts, sketches, prototypes, and models that were used to create the characters, backgrounds, and storytelling approach in each motion picture. Not surprisingly, the process used at Pixar depends extensively on iterative development of these elements, with frequent collaborative review by a diverse design team.
I took the photo below as I was touring the exhibit. It shows the visual organizer that was used to illustrate the way that Pixar Studios works through creating the story and characters that populate a new film: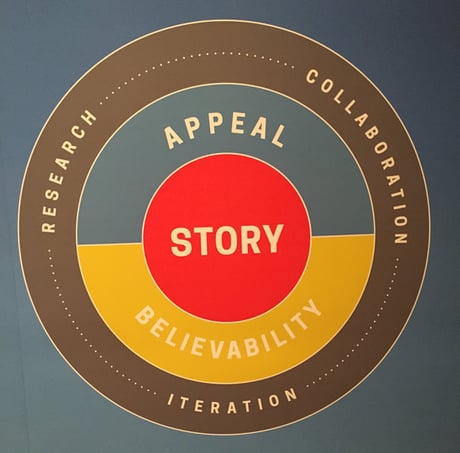 I've taken the liberty to use this diagram as a model to highlight how similar the SAM design elements are used to design and create compelling and effective e-learning.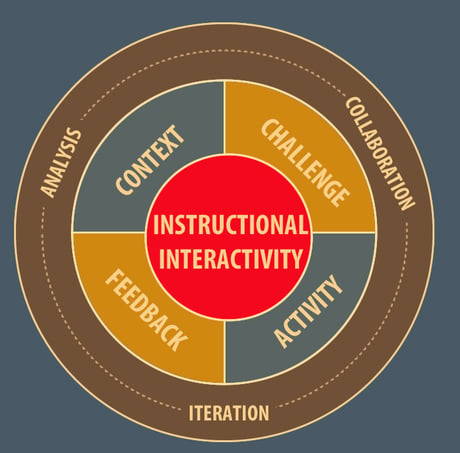 I left the exhibit freshly inspired to embark on the projects ahead of us. SAM allows a power approach to crafting learning experiences that will truly impact your learners in a way that changes performance, inspires learning, and creates long-term memories that reinforce the impact of your training efforts for many years to come.
References:
Michael Allen's Guide to e-Learning
LIKE WHAT YOU'VE READ? SHARE THE KNOWLEDGE WITH THIS READY-MADE TWEET!
CLICK TO TWEET: 3 Key #eLearning Design Steps From Pixar's #Design Story http://hubs.ly/H01Nvvt0 #aiblog