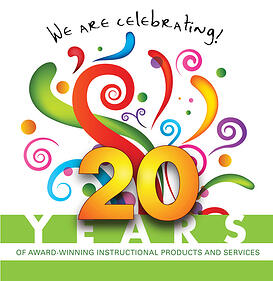 We're kicking off our 20-year anniversary celebration at DevLearn being held this week in Las Vegas! If you are in the area or attending, please stop by our booth, say hi, and check out out the latest and greatest ZebraZapps authoring and publishing system—and to tempt the tastebuds—treat yourself to a cupcake...who can turn down a cupcake?!
Read on for details of our involvement and how to get a taste of the conference for free if you're in the area but on a limited budget!
ZebraZapps Demos
Our passion for serious e-learning has led to the development of a professional authoring and publishing platform, ZebraZapps. Christopher Allen, product manager, and Steve Lee, strategic relationship manager, will be showing some of the new features of ZebraZapps as well as demonstrating how to use this platform to create meaningful, memorable and motivation learning using context, challenge, activity and feedback to bring real performance-change to your business.
Speaking Sessions | October 23-25
Free Expo Passes
Sign up for a complimentary expo only pass, which provides attendees access to the DevLearn 2013 Expo as well as participation in the Featured Learning Stages that will be running educational sessions throughout the conference, led by industry experts and suppliers. Expo-only attendees can also participate in the popular Expo Welcome Reception and DemoFest.