By Angel Green, senior instructional strategist | @LearnerAdvocate


I was so thrilled by the high interest and positive feedback on my recent webinar, Mix It Up: Strategies for Blending Learning Modalities. I want to share answers and insights into questions asked during the session and I hope you can glean something valuable and applicable for your future blends. You can watch my on-demand webinar by clicking here. Enjoy!

1. How do you define performance support tools? Examples?
Performance support tools are resources learners can use as just in time support of performance. Examples might include traditional job aids, like a checklist of steps in a computer system screen, or a video showing how to operate a piece of machinery. But, we also categorize formal mentoring moments, job shadowing, and on the job training as performance support. These one-on-one events are designed to support employees in the moment of performance.

2. So are you saying that including tests and surveys in an e-learning environment is informational? How do you make it better?
At Allen Interactions, we have a different philosophy on testing. We define testing as events in which learners make a decision and experience the consequence of that decision. Let's face it, no one in your job is going to come up to you and say, "True or False, the third step of the process of adding a new customer to the database is to capture his/her address." Traditional multiple choice questions and standardized methods of testing rarely do more than indicate a learner can recite information; they do nothing to demonstrate capability of completing a task.
As a better test, we suggest putting learners into challenges that are scenario-driven instead of asking learners to compete multiple choice or true/false questions.

3. Is there any approach or specific technique or considerations to define the sequence of the blend?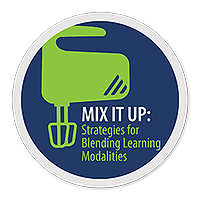 The sequence of the blend should provide learners with the training/support they need as close as possible to the moment they will be applying that knowledge. That is why I recommended in the webinar that you first determine what the learner needs to know and do—and then follow that with the question of by when. For most positions, learners do not need all of the knowledge immediately. Instead, they are expected to perform at increasing levels of competency as time goes on. Space your learning closest to the date/time when a learner would need to be applying the training in their "real world."

4. Are there any considerations about the use of technology? Many learners who are not familiar with new technology find blended learning very complex.
While there are high-tech solutions that add to the "cool factor", they are not required as part of your blend if your learner audience is not technologically savvy. We work with clients who have employees that are either not comfortable with technology, or have technological restrictions requiring a more traditional mix. So, if this is the case at your organization, your blend might include some informational resources such as paper-based case studies, pre-reads (books, white papers, etc.), an instructor-led training (ILT) course with a traditional facilitator in a classroom, and some performance support documents, like check lists, how-to guides, and formal on-the-job training guides.

5. For the informational example, the problem with newsletters is that they aren't permanently indexed. Did you do that, or maybe use SharePoint (as you suggested) so that employees could find the information they need later?
In this specific example, we did place them in a fixed location where the learners could access them easily in the future. I have also seen success in creating an e-newsletter and placing it on Employee Performance and Support Systems (EPSS), portals, and even on Learning Management Systems (LMS).

6. If learning is "staggered" and completion status is required, do you have any suggestions on how to manage LMS administration of all these separate "when" chunks?
I spent a good number of years selecting and managing the implementation and administration of LMSs and, specifically the curriculum management function. Most LMSs have functionality to build and assign a learning path or curriculum to an employee or a group of employees (all those with X job code). Within the learning path or curriculum, you generally can structure the order and sequence of learning objects (whether these are courses, PDF documents, or outside learning activities). Each of those can have targeted completion dates based on assigned dates. As an administrator, you can set it up so the LMS handles a lot of the communication automatically. So, for example, if your learners need to complete the first course by day 10, the second course by day 20, and the third course by day 60, you can set up reminder notifications to be sent to the employee (and even copy their manager) at appropriate intervals.

7. Can you speak to wraparound training or training to take away on-the-job tools?
Wraparound training is a very similar concept to what I referred to in the webinar as an action journal. This is a type of intra-modal blending in which key concepts and behaviors are taught in an experiential learning event and learners are asked to continue the learning through specific actions in the "real-world." During class, for example, the learner might role-play a sales call and try out the techniques for closing the sale. Then, while in class, the learner might document the techniques they felt comfortable enough to try in the action journal. Learners leave class and use that same action journal as reference and to document if the sale closed, if the techniques helped, how they might modify the close to make it their own, etc. It is the bridge between the training and the application and is often extremely beneficial to the learners.

8. Where does a "train-the-trainer" effort fit into the blended delivery? (Clarification...I ask this because their preparation needs to escalate their proficiency to re-address many of the learning scenarios day-to-day.)
Train-the-trainers would work the same in a blended learning as they do in traditional facilitated events. Now, the competencies a facilitator must possess are vastly different when you are doing experiential learning in class. Those facilitators need to be comfortable with mentoring, role-plays, and facilitating discussions rather than having good presentation skills to deliver a "death by PowerPoint" lecture. This means facilitators need to have a solid understanding of the content, be able to empathize with learners, to ask probing questions, to model appropriate behavior, and answer "higher-order" type questions.

9. How can one produce experiential online learning as inexpensively as possible? (Department of one with a limited budget)
Great e-learning doesn't need to be expensive—it just needs to be focused on making decisions and experiencing consequences. This involves asking learners "what would you do…" type of questions and providing them with a realistic consequence if that action was taken—incorporating story-telling, building characters, and using visuals instead of words (implied feedback of arms crossing and scowl on the face likely means I made the wrong choice!). We have lots of great examples and e-learning demos of how to incorporate these into your learning. Our new cloud-based system for authoring and publishing, ZebraZapps, is also a fantastic and inexpensive means to help you break away from linear, page turning e-learning.

10. Can you recommend resources or a process for developing scenarios and case studies?
In our process, the Successive Approximation Model (SAM) we describe the content gathering effort in e-learning course design. In content gathering, we suggest you work with recent learners, their managers, and high performers asking them each very specific questions. You can ask these questions during focus group conversations—I've used recorded conference calls to facilitate this—or by sending out word documents and asking each person to complete on their own and return to you. For instance, one of the many questions we asked AutoNation when building their course for Sales Associates was, "What can an Associate say to a Customer that strongly disagrees with the estimated trade-in value?" We were looking for very specific statements to include in our content and only those folks in the role would know how to answer the question. The answers to these content gathering questions help you write the content for your scenarios or case studies.

11. I work in an organization that has made several attempts at e-learning, but our efforts are too time and labor intensive, and there isn't a great deal of participation by learners. However, a participant guide for an ILT course can be executed fairly quickly. How can I promote more blended learning other than promoting its benefits?
That is funny because I feel the opposite! It takes me much longer to prepare for ILT than it does for an e-learning course. First, you need to determine what you need in the blend. Maybe ILT is still a great solution for your organization and you just need information sharing and performance support tools surrounding the training event. Before learners arrive, can you provide them with some case studies, reflection journals (where they document specific challenges they have or are currently facing) or e-newsletters to "prime the well" and prepare them to participate in experiential learning in class? Can you send them out armed with performance support tools to help them in their day-to-day activities? However, I do see such power in e-learning and encourage you to continue to seek ways of building e-learning without breaking the budget. We have tons of resources, webinars and now ZebraZapps to help!

12. Do you have any best practices on how a moderate size organization could create e-learning programs without enormous costs? I find many require large computer development costs. Do you know of any easy-to-use templates/easy-to-use programs that can help someone like me create an e-learning program?
These days, there are a lot of low-cost solutions for e-learning development. However, I caution that a lot of these are very "templatized" and do not encourage the development of anything more than a glorified PowerPoint presentation.

13. What is the best way to get buy-in to adopt a blend learning philosophy?
I'm assuming the buy-in you need is from leadership within the organization. To get their approval, you'll need to prove your business case. What are the cost savings that you expect to see over the long-term: reduction in travel expenses, reduction in time away from work, increased efficiencies, decreased time to proficiency, etc. When you haven't implemented a blended learning program before, you'll have to share from the successes of other organizations. Find case studies, research articles, or white papers that showcase the tangible benefits other organizations experienced after blending. We have a case study on our work with AutoNation that shows their real business and metrics results from the blended learning program.

14. From your experience, what is more effective—virtual or classroom ILT?
I don't believe it's an either/or. There are classroom-based instruction courses that are "data dumps" and make learners feel overwhelmed and bored. On the other hand, there are virtual training events that are highly engaging and interactive. Regardless of the delivery mechanism, the learners need to be involved in practical application rather than listening to lectures.

15. How did you measure change in behavior or performance? What metrics did you use?
When we are asked to measure the training, we never suggest a score at the end of a course. Instead, we focus on the real business measures the organization is looking to improve. Have a new software coming out? Decrease the number of phone calls to the help desk. Developing training on safety in the workplace? Measure the amount of incidents pre-training and then post-training over a six-month period. Leadership training? Distribute a 360 evaluation before the training and ask the same questions after the training. The best bet is when you have existing metrics in place. AutoNation, for example, already measured numbers of vehicles sold, profit per vehicle and retention. These allowed us to measure the difference between a pilot group and a control group of equals. Also, when existing metrics are in place, executive leadership is already comfortable with how they are gathered and understand how to interpret them. In other words, it's not a "made up" metric developed just for training purposes.

16. Do you have tips to build blended training if you have learners with different levels of experience or are in different stages of their development but they all need to be trained at the same time (no choice, corporate decision).
That is one of the best reasons to develop a blended learning solution! Provide learners with the ability to dive in deep into areas where they need more information, on their terms, while not boring learners already familiar with the content. Experiential learning events offer the opportunity to reinforce behaviors for those who are strong in competencies while building the skill for those new to the competency.

17. Could you give a specific example of experiential e-learning?
I would encourage you to access the e-learning demos on our website.

18. How do you determine which kinds of practice scenarios to build into the experiential e-learning vs. what to practice in the ILT piece?
Ideally, they are really similar. So, if you are interacting with a customer in the e-learning, you simulate this through choices in things to say to the customer, and in the ILT you demonstrate the body language, mannerisms, and pace to speak to the customer. The difference with online and ILT is that in the e-learning you likely still have a "crutch" of a finite response (there are choices, you select which choice to make, and there is logic instructing the program how to respond). In ILT, it's free and open. You say something and the person you are speaking to can say something completely different in return.

19. How do you integrate mobile learning in the blended modality?
Mobile delivery, in my opinion, is great for performance support and information sharing. I believe that for an experiential e-learning course you can do mobile, but should use larger mobile formats—like tablets. To me, mobile is another delivery mechanism, but is not in itself a modality of learning.

20. Supporting a continuous learning environment (e.g., via social media platforms) can take top-down modeling support). Do you have any suggestions to help time-oppressed workers see the value/play in the "sandbox" without mandating this—for example—when the top-down enthusiasm isn't present?
When done correctly, learners should want to reach out to your learning because they see the value in spending their time doing so. It helps answer a question, it helps build their skill, and it helps them improve their performance. Now, if your learners have experienced training in the past that may have been…let's just say, not as good, you may have to overcome some preconceived notions of what training is at your organization. And, likely that is not such a positive thought. If you feel this way, check out my blog on ways to market your learning.

21. How would you compare your blended learning approach to the "flipped training" used in Universities and high schools?
Other than the fact that I do not recommend videotaping lectures for adult learners, there are lots of similarities in the concept of seeding the learners with the content and using the experiential learning moments to answer specific questions and demonstrate proficiencies.
ACCESS MY WEBINAR ON BLENDING LEARNING MODALITIES HERE