by Richard Sites, vice president - training and marketing | @rhillsites

Rarely am I at a loss for ideas, suggestions or thoughts about e-learning design, instructional design or managing a learning development project. That is until it's my turn to write a blog post! Look, I'm no different than the rest of you. My intentions are good and procrastination is not my plan. But that doesn't mean writing something pithy and valuable on short notice is easy. (I guess that's why you are not supposed to write on short notice.)
Writing takes planning and thought. But most importantly, writing requires a direction and a purpose. Writing for the sake of writing may be a good exercise to develop one's skills, but not really a recommended strategy for ensuring quality. Without a direction and purpose, you are most likely just stringing words together in the hopes that they make sense.
This is also true for instructional design. The construction of instructional materials is NOT instructional design. Like writing for the sake of writing, you should avoid creating "training" for the sake of creating training. You've seen the e-mails and blog posts scattered across the internet and social media: "Converting PowerPoint to Engaging e-Learning" or "A Checklist for Good e-Learning Design." That is not instructional design. It may be media design (if even that).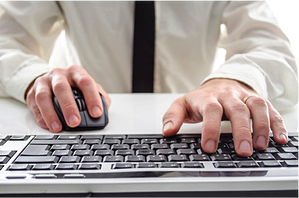 Often during his presentations on SAM (Successive Approximation Model) Michael Allen will say "While this is not a presentation on instructional design, I can't avoid talking about it for minute." And as he speaks about meaningful, memorable, and motivational learning experiences that are built with context, challenge, activity, and feedback, the room is full of heads nodding in agreement.
But I have come to realize that many people in the room do not understand why he is talking about these things in the beginning of a presentation on an agile, iterative instructional design process. It's because he wants us to understand that while an effective process that supports the efficient and effective development of quality learning experiences is critical, it is simply the HOW not the WHY on instructional design. You can have the most efficient process in the world, but it won't help if you don't have good instructional design.
Good instructional design begins with a purpose: To empower people to be more competent and capable individuals who feel their efforts are valuable to themselves and their organization. Good instructional design is meaningful and memorable to the learners (see the wonderfully written blog post by Ethan Edwards: It's No Mystery: Meaningful & Memorable Matters). Good instructional design involves making choices about learning experiences which build on the purpose. Good instructional design does not begin with a PowerPoint file, a company's procedure manual, or the twenty products that the company sells.
As instructional designers, we must begin with a purpose. If your purpose is to convert a PowerPoint file from an ILT into an e-learning course, you are not adhering to any instructional design methodology. You are simply constructing materials that will be given to learners in the hope they find meaning from the information.
So the next time you are presented with an opportunity to participate in a project to create instruction, challenge yourself and your colleagues to put the Design back into Instructional Design