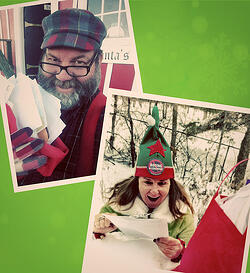 Hello all you good little boys and girls in e-learning land! Thank you for all the letters you've sent me (more are welcome – see below for details).


My elves and I have been busy collecting and reading your learning wishes and woes! The response has been overwhelming and I'm sure you'll want to join us as we sift through my big, red e-learning mailbag. While we are all set for our holiday webinar, December 18th, 1:00 PM, North Pole Central Time, it seems I'm having problems with:
SCORM implementation (Santa Claus's Objection to Reading Mail),
LMS settings (Lost my Mittens in the Snow), and managing
ADDIE (Attention Deficit Disorder Infecting the Elves)
I'll be partnering with Lisapingle Stortzcicle, one of my favorite elves, and relying on her to help me deliver the best holiday webinar ever!

I'm making my list and checking it twice!
See you online next Tuesday...otherwise who knows what you might find in your stocking?
If you haven't yet — write me, right now!
I want to hear it all — one line or as long as you want, anything nice or not so nice, send me your wishes or woes at: santa@alleninteractions.com.

Need a new learning strategy? Want to spice up your boring e-learning? Want to increase your ROI? Need help with design ideas or development insights? Remember, I have a whole workshop full of elves to help, so don't be afraid to ask!