by Ethan Edwards, chief instructional strategist
I spent this last week in Chicago, participating in the annual ASTD ICE event. As always it was great to have a chance to connect with training professionals from all over the world. For those of us interested specifically in designing instruction, Chicago was a fitting place, from which I hope we all could take some inspiration.
More than nearly any other major city, Chicago is known for the uniform excellence of its architecture. And as a visitor to the city, it makes a difference. One can't help but be impacted in some way by the designed spaces and structures encountered everywhere. Buildings, on one level, have a very specific, rather limited purpose: to provide living space or working space protected from the elements.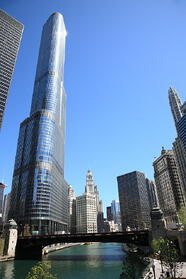 Successful buildings, however, do much more than that. They create an experience that touches the people who use them. They provide amusement, inspiration, calm, awe, wonder, meaning. One can't help but feel a greater purpose or heightened significance of oneself in those surroundings.
We have this same opportunity and challenge in designing instruction. Training should not be about the narrow idea that communicating information is all that is necessary. Training needs to transform the learner so that whatever it is that we are teaching takes on a significance that truly connects and inspires the learner in the same way that experiences with the designed spaces around us feed our daily lives.
Even when we agree with this philosophy, too often we make excuses: "That's fine if you have the time, but we just need to get this done," or "There's no way to add interest to teaching this software; the learners are required to do it so this is good enough." Well, those are exactly the times when learner-centered design is most necessary.
In many places, we can see the failures of poor architectural design: housing developments of endless identical tract homes, built for the convenience of the builder rather than the needs of the people who will live there; enormous housing projects in densely-populated cities that provide shelter but also stifle basic human needs for community and space. We know these are failures in the frequency with which the mind-numbing uniformity of blank suburban landscapes is the source for arts and literary inspiration and in how many of those housing projects have been the victim of the wrecking ball. They didn't fail because they hadn't succeeded in providing protection from the elements. Instead, they fail because they lose track of how the structures need to connect to the people who will live in them.
The same thing holds for designing e-learning. It isn't enough to simply put words on the screen, only to be forgotten or avoided, or ultimately discarded like the housing projects.