by Ethan Edwards, chief instructional strategist
Writing this week from ASTD TechKnowledge 2010 Conference in Las Vegas
Conferences are a great time to renew our focus, reconnect with colleagues, absorb new ideas, and take time to reflect on the possibilities in our field. This year's TechKnowledge Conference has lived up to all those expectations and then some. In particular, I was especially fortunate to be able to spend two days leading a great group of e-learning professionals through ASTD's Advanced Instructional Design for e-Learning Certificate program.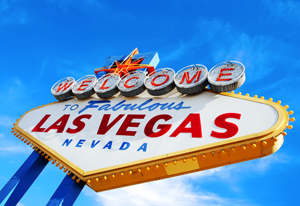 Las Vegas is an interesting location for a conference where the participants are primarily engaged in the pursuit of achieving lasting change in the performance of their workforce. This is a city focused much more on creating fleeting impressions over building experiences of lasting value--the appearance of luxury, the appeal of unbridled pleasure, the thrill of instant gratification, and the guilty pleasure (or hope) of winning something that wasn't quite earned. With relatively little planning or investment, anyone at all can believe for a few days that they are basking in luxury--living the high life--drinking from the fire hose, if you will. (I don't mean this in any moralistic way; pleasure and joy are commodities far too rare in this world to begrudge anyone free pursuit of harmless entertainment.) The city's own tourism motto, "What happens in Vegas, stays in Vegas," underscores the implicit assumption that nothing here really should count for much in the "real" world.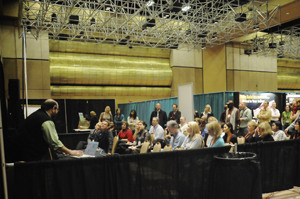 It's hard not to recognize some ironic parallels to this in how investments are made in e-learning. Otherwise intelligent business leaders somehow think that e-learning is some kind of amazing treatment that can automatically achieve change with comparably little effort. Superficial glitz and pizzazz are plastered on materials that are already known to be ineffective. Sums of money are consumed in quick, high-profile purchases (like LMS or flashy templates) dreaming of successes without investing in the substance of instruction that is necessary for those elements to have real value. Immediate successes are expected (and demanded) even when basic investments in tools and design and development skills are ignored. Unfortunately, the result is too often a world where "What happens in e-learning, stays in e-learning." Learners spend a brief moments immersed (willingly or not) in these quick-hit applications and then go back to work, with no more expectation of bringing value back from the learning experience than one hopes to bring something lasting home from Vegas.
Let's reject this as a way to use our skills and resources in training and development. E-learning can provide unparalleled opportunities for growth and creativity IF we realize that lasting value requires time and investment.