by Ethan Edwards, chief instructional strategist
Students in my ASTD Workshops are often just embarking on their first e-learning efforts, and a commonly-asked question is, "What is the best content for e-Learning?"
The inclination of most people is to first apply e-learning to teach the uniform, low-level, base content knowledge that is part of nearly every training program and then reserve the more open-ended soft-skills and problem solving training to instructor-led environments. But this is an area where I think conventional wisdom is wrong.
It seems e-learning can best be used to teach things that require problem solving, trial-and-error, practice, and activity. These are things that are particularly difficult to do equally-well for all students in a classroom environment, but are naturally suited for the individualization, adaptive branching, and the simulated environments possible online.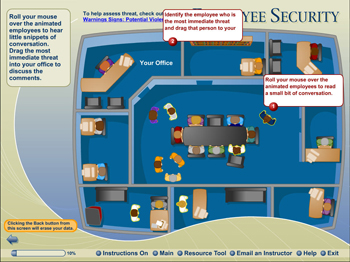 Instructional design traditions of teaching by telling often lead us in the wrong direction to begin with, but part of me fears that the tools available for creating e-learning are also largely responsible for this thinking. The tools are optimized for presenting content and then asking simple-minded questions about it.
Even Lectora, which I think is actually one of the better options on the market right now for authoring, holds out the promise of drag-and-drop functionality (an interaction style very handy in creating engaging instruction) but limits the author to using targets that must match the size of the moved object exactly—which makes the activity not very useful except for building matching exercises.
The result of "conventional wisdom" thinking in this case is that we completely miss the enormous opportunity to transform learning offered by the capabilities of e-learning, and instead, are bound by trivialities. Next time you think about what should go into e-learning, pick something powerful, something important, and even something that has been difficult to teach in other modes. I think you may surprise yourself in what content is "right" for online delivery.