by Nicole Mellas, Instructional Designer

As a director and producer of live theater, I have a certain love for the classics, the big showy musicals from Americana's past where everyone in town happens to participate in a dance number and then end by going about their business. I like the big numbers. I like the ridiculous leaps of faith and plot silliness that we all just accept as truth because, hey, it's a musical. You just go with the flow.
Nowhere is this more apparent than in the flamboyant, brilliant 1957 musical, The Music Man. A flim-flam traveling salesman, Professor Harold Hill, arrives by train and tricks the entire town into buying band uniforms and instruments. You might be surprised to learn how much this musical has in common with e-learning development.
Professor Hill's unique methodology for "teaching" the town's youth is the Think Method: you think about the song you want to play and then you play it. The very notion is the foundation of absurdity, the ridiculousness that is the cornerstone of this hilarious farce.
Crazy, right? Think about something a lot and then perform the behavior.
If it's so crazy, why do I hear this request from clients all the time? Below samples a fairly typical conversation I've had on past projects.
Client:
They don't need to learn any skills. This is an awareness course. So they just need to think about this topic.
Me:
Think how?
Client:
Think about the ramifications and what to do, if they need to intervene, that sort of thing.
Me:
Intervene? So there are decisions to be made and consequences (i.e. ramifications)?
Client:
No, no…the audience is so diverse we just want them to consider all the possibilities.
Me:
So let's say they DON'T consider anything. You're saying there are absolutely no consequences to customers, sales, or end users in that case?
Client:
Correct. Well, except that we lose credibility and our customers go away.
Me:
So there are consequences…but you don't want to teach them the skills to keep these customers.
Client:
No, they just need to think about it. We need them to be aware of it.
Me: [Blink. Blink.] Do you like musicals?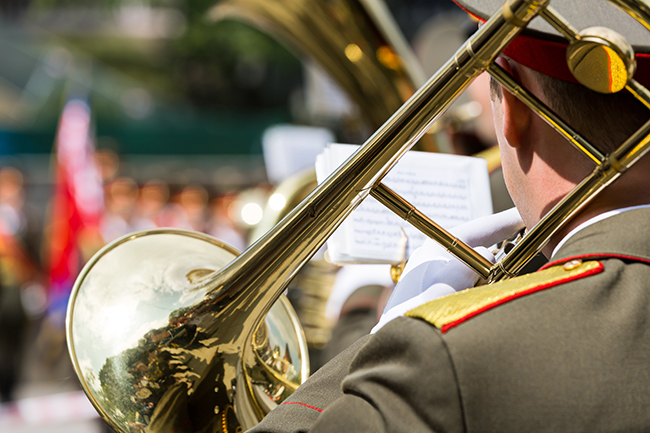 I must confess that the outcome in The Music Man does not favor my blog post. Toward the dramatic conclusion, while the angry townsfolk gather to tar and feather Professor Harold Hill, his new-found love, Marian, the Librarian, organizes the youth band to play Minuet in G, using the Think Method. And while some notes hit the wrong key, this impromptu band somehow performs recognizably enough to make the townspeople applaud and forgive. It's not great music…but the town forgives.
In the world of e-learning, of course, clients can't afford to overlook the use of an instructional approach that is less "strategy" and more "hope." Clients can't afford to overlook failure. Sure. If this were a musical, failure might result in a firm being fired, but the firm would be fired in song! And by the end of the song, the client and the ID would have made up! And there would be a kick line! Alas, life is not always a musical.
Okay, enough daydreaming about musicals. Here is the bottom line: I hate to see projects fail. I hate to see well-meaning stakeholders cling desperately to Professor Harold Hills' "Think Method" paradigm. I remain passionate about creating change. I find the process of people changing their behavior fascinating. That's why I love instructional design.
Here are some basic recommendations to keep in mind to avoid the dreaded Think Method:
Even when you think it's about "awareness," it's almost always about performance.


Just because a performance is hard to define doesn't mean it's impossible. Just because it's hard to define doesn't mean it's less important to define. Defining the performance you want to see will help illuminate if this is a training problem.


If there are no consequences for lack of performance, don't create training. It's the wrong medium.
And if I had more time, I'd write this advice as a song.
---
Want to share this post? Here are some ready made tweets:
Click to Tweet: Even when you think #elearning is about "awareness," it's almost always about #performance. http://hubs.ly/y071J00 via @customelearning
Click to Tweet: If there are no consequences for lack of #performance, don't create #training. #onlinetraining http://hubs.ly/y071J00 via @customelearning
Click to Tweet: 76 Trombones and the Dangers of the Think Method for #eLearning. http://hubs.ly/y071J00 #performance #onlinetraining via @customelearning