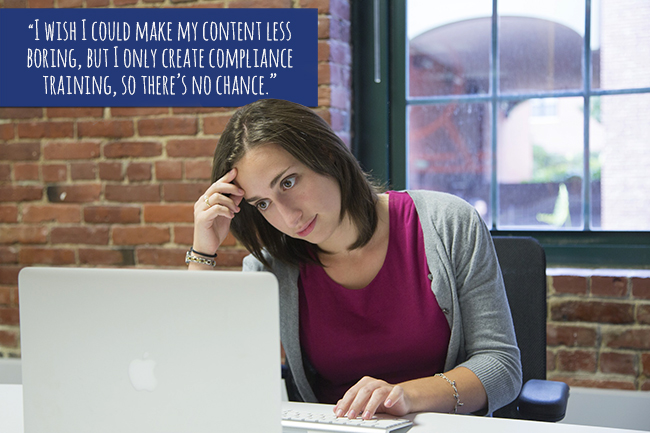 by Steve Lee, strategic relationship manager
Have you attended one of Allen Interactions many webinars on applying best in class instructional design based on Context, Challenge, Activity, and/or Feedback, better known as CCAF? If so, are you saying one or more of the following?
"Yeah, I would love to design my e-learning around CCAF, but I have compliance training and that just won't work"
"I love your methodology for creating better e-learning, but it won't work for me, my work is too content driven"
"I wish I could make my content less boring, but I only create compliance training, so there's no chance."
"How am I supposed to make laws and regulations fun and engaging?"
Well, we hear you! At Allen Interactions, we strive to share our knowledge of what goes in to making good e-learning, even when that e-learning is compliance training. So, we made this webinar just for you!
On August 27th I will be providing a quick 45-minute webinar titled Bored No More: Engaging Compliance Training with ZebraZapps. In this webinar, I will demonstrate how to turn even the driest compliance content into exciting activities that are meaningful, memorable and motivational. I'll show best in class examples of compliance training from Fortune 500 companies, as well as walk you through how to start thinking about, sketching and even prototyping some of these designs in ZebraZapps.
If you are interested in transforming your compliance training, than you won't want to miss this webinar!

Share this Event!
Click to Tweet: Engaging compliance training is possible! Find out how! http://hubs.ly/y05qv60
Click to Tweet: "I wish I could make my content less boring, but I create compliance training." Create engaging compliance training! http://hubs.ly/y05qv60
Click to Tweet: Bored No More: Create Engaging #ComplianceTraining with @ZebraZapps! #elearningwebinar http://hubs.ly/y05qv60