Training Industry's Top 20 Content Development Companies List Includes Allen Interactions For 6th Consecutive Year
St. Paul, MN – May 15, 2016 – TrainingIndustry.com has announced its Top 20 Content Development Companies List, as part of its mission to continually monitor the training marketplace for the best providers of training services and technologies.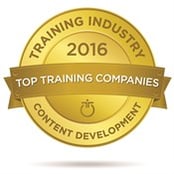 Allen Interactions, a custom learning solutions provider focused on providing performance-changing learning events that provide business change for its clients and their employees, was named to Training Industry's Top 20 Content Development Companies List for the 6th consecutive year.
Selection to this year's Top 20 Content Development Companies list was based on the following criteria:
Capability to develop and deliver multiple types of content

Industry visibility; innovation and impact

Company size and growth potential

Depth and breadth of subject matter expertise

Quality of clients

Geographic reach
"We are excited to announce our 2016 Content Development Companies List as it is an important resource, helping training buyers find the best match for their learning program development needs," said Ken Taylor, president, Training Industry, Inc. "These companies are able to bring together innovative technologies and best-in-class instructional design to generate some of the most exciting examples of corporate learning in the marketplace."
"The content development segment of the training industry is quickly becoming one of our most inquired about Top 20 lists," said Doug Harward, CEO, Training Industry, Inc. "The companies selected for this year's list continue to lead in setting many of the key trends in corporate training."
---
About Allen Interactions
Allen Interactions creates powerful custom learning experiences that help achieve organizational business goals by improving performance one interaction at a time. With more than 20 years of deep experience in instructional design, technology, creativity, process, and project management, Allen Interactions consistently achieves positive business impact. For more information click here.

In addition to its services, Allen Interactions has a cloud-based visual authoring and publishing system, ZebraZapps, which allows developers and non-programmers to create rich interactive media applications, as well as share, publish, and sell objects or entire applications.
About Training Industry, Inc.
TrainingIndustry.com spotlights the latest news, articles, case studies and best practices within the training industry. Our focus is to help dedicated businesses and training professionals get the information, insight and tools needed to more effectively manage the business of learning. For more information click here.