This demand for innovative employee training is growing rapidly, and for good reason: VR training has a retention rate of 75%, beating out lectures (5%), reading (10%), and audio-visual learning (20%) (FrontCore, 2020). Although most associate VR employee training with highly technical tasks and industries, virtual reality and innovation create tremendous opportunities to provide immersive and interdisciplinary experiences for both technical and soft skills.
Regardless of industry differences, we are united with a single need: we all require emotional intelligence knowledge to become good corporate citizens. Emotionally intelligent leaders cultivate a sense of belonging through higher levels of trust, cooperation, and flexibility for their teams. As a result, employees benefit as all three of these attributes strengthen cooperation and collaboration, resulting in a positive psychologically safe environment.
Most importantly, our modality for employee training and onboarding can help to empower our teams to adapt and excel–all while creating measurable results.
Why should VR employee training be used for soft skills?
According to research from PwC, VR can help leaders upskill their employees faster, even when budgets and in-person training options may not be readily available.
According to the study, the top five benefits of VR employee training include:
Faster time to competency - On average, employees who utilized VR training methods were trained four times faster than their e-learning and classroom learning counterparts.
Increased learner confidence - Employees who utilized virtual reality delivery reported being 275% more confident to apply their skills on the job.
Stronger emotional connection to training - Simulation-based training in virtual reality creates more meaningful learning experiences, which helps reinforce empathy and connection to the training.
Learners report greater focus on training - In a world full of distractions, immersive learning experiences such as virtual reality help to eliminate multi-tasking. Respondents from the PwC study showed astounding results - those utilizing VR employee training were up to four times more focused than those learning solely from e-learning.
VR employee training can provide scalable cost investments - Research showed that when delivered to the appropriate audience size, can create a higher return on investment for employee time and course facilitation.
Embracing innovation with VR employee training
Change can be intimidating, and even scary to some. In order to embrace innovation with VR training, our employees and leadership alike have to be in the right mindset to adapt and grow as a team.
A growth mindset requires a flexible, open-minded learning context where learners can stretch themselves and explore their capability to bend and bounce back in multiple situations. This can be accomplished both in-person and through digital methods contextualizing the worker's environment—expanding beyond geographic barriers.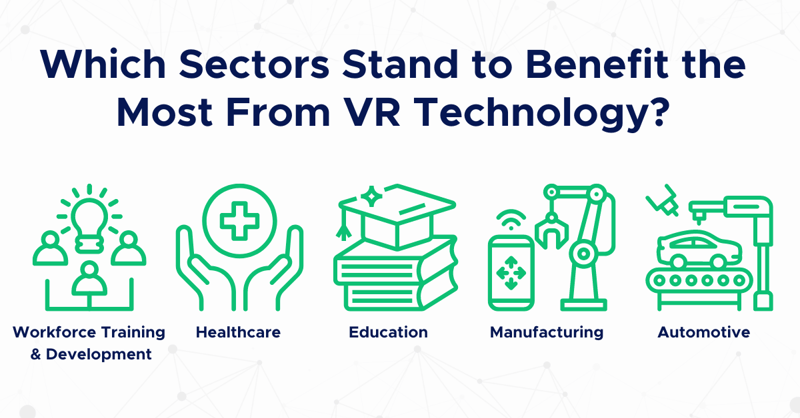 Investing in innovative technology training
The challenge to any organizational culture educational strategy is the investment of time. This resistance to investment is driven by the reduction in productivity occurring during educational events. How do we minimize off-task time, be it from the bedside or production floor, while maximizing the educational impact? By bringing the classroom to the learners.
The very nature of virtual reality ensures a standardized delivery coupled with a personalized experience where knowledge acquisition can be easily measured. Each immersive event is invaluable for helping learners develop empathy, work through complex situations, and literally "walk a mile in someone else's shoes."
Blended learning in VR employee training
A blended learning approach is an effective organizational culture strategy. It shifts emotional intelligence development from theoretical to practical application. As learners actively engage in training, key concepts are internalized increasing the learner's capacity and comfort level to apply them in their specific situations.
Consider a self-directed, self-paced combination of:
curated content in the form of videos, blogs, and articles

journaling for reflection and practice

virtual training and coaching

virtual reality.



Use cases for VR employee training
Previously, VR employee training was something that was considered to be reserved for Fortune 500 companies and tech titans, but as time has changed so has this mindset. Affordable equipment, more talent resources, and software options have allowed more organizations to use this robust instructional methodology.
Examples of virtual reality applications to improve emotional intelligence and enhance cultural norms:
VR employee training improves connection and communication. In healthcare, there are virtual reality programs simulating what it is like to be an elderly patient. Doctors who gain a better understanding of patients' pain and frustration through virtual reality training can be more empathetic and understanding.
VR employee training creates cultural competence. The Department of Defense (DoD) employs virtual reality to enable military teams and those who support them in culturally complex environments to learn about specific cultures simulating challenging experiences.
VR employee training reduces unconscious bias. Corporate giant Procter & Gamble utilizes virtual reality to reinforce an inclusive and empathetic culture by providing immersive "firsthand" learning experiences of discrimination.
In addition, Procter & Gamble utilizes VR to promote their

organizational culture

by encouraging hopeful applicants to visit a day in the life of various positions within its company.
Looking ahead
This is only the beginning. Innovative approaches to help learners acquire and refine empathy, compassion, and understanding are making solid progress. Through an emotional intelligence skill set, improved appreciation for each other in the workplace fosters empathy and compassion which has the ability to positively impact organizational culture affecting recruitment, retainment, resilience, and revenue.