The metaverse has been a big topic in 2022, and for good reason: the entire metaverse as an industry is expected to grow at a compound annual growth rate of over 13% over the next few years. With this projected growth, many companies are beginning to take a serious look at how they might take their brand into the immersive world, with 95% of business leaders believing that the metaverse will have a positive impact on their organization within the next 5-10 years.
Entering this new world is very much so like taking on an exciting journey, but it can also come with a lot of questions and require extra navigation to find your footing on the path ahead. Whether you're meta-curious or an avid digital globetrotter, the metaverse represents a digital horizon of potential for companies of all sizes. Regardless of your level of involvement, we'll debunk some of the myths and mysteries surrounding the metaverse, showcase some of the industries and organizations tapping into the world, and explore options for organizations to join the metaverse and create a digital footprint in this new world.
Revisit the Foundations of the Metaverse Series:
Debunking metaverse myths
1. No one knows what the metaverse really is: Defining the metaverse has been a struggle in the past, but metaverse awareness is going mainstream. In fact, nearly half of early adopters are able to describe and define the metaverse in multiple, clear terms that explain the characteristics and experiences of the ecosystem.
2. The metaverse is just a gaming platform: Although the worlds of Roblox and Minecraft have been touted as some of the most popular names from the metaverse, the potential for innovation lies far beyond immersive gaming. In fact, gaming barely made the top 10 user interests in the digital world - with shopping, telehealth events, virtual training, traveling, and visiting family and friends rounding out the top 5.
3. The metaverse isn't for business: This myth is being busted on a daily basis, as many brands are delving into the digital world. Paired with the future consumer interest survey responses from McKinsey, there is a major interest from consumers to interact with, shop with, and build relationship brands within the metaverse within many different events and realms.

4. The metaverse isn't for older generations: From baby boomers to Gen Z, the metaverse has value and interactive interests for everyone. Adoption and adaptation to new technology can be a challenge for anyone, but the metaverse isn't exclusive to Gen Z and millennials. Although baby boomers are predicted to use the metaverse less than their younger counterparts, the average number of hours spent in the metaverse still shows a spread of hours beyond any single generation.

5. Facebook owns the metaverse: Contrary to popular belief, the metaverse is not owned by anyone - and is not an exclusive platform for Meta (formerly known as Facebook). Epic Games CEO Tim Sweeney sees the metaverse as a potential "multi-trillion-dollar part of the world economy," which, like the internet, as we know it today (web 2.0), would not be owned by any specific corporation.
Who is investing in the metaverse?
Some of the world's biggest tech companies are already investing and making major waves in the metaverse and with digital patrons.
The metaverse will be driven by diverse forms of technology such as cloud infrastructure, software tools, platforms, applications, user-generated content (UGC), and hardware. In addition to the technical requirements, the metaverse will include various user experiences including, but not limited to, entertainment, gaming, commerce, social interactions, education, and research. Ultimately, there are seven levels of value that help tie a company's role to the growing force of the metaverse.
Experience: Services and events that drive engagement and interaction - think concerts, exhibits, conferences, and more.
Discovery: What drives us to learn about experiences; the marketing sphere of the metaverse.
Creator Economy: The tools, resources, and systems, that help designers to create items, graphics, and media for the metaverse, NFT, or user purchases.
Spatial Computing: The software and AI tools that allow us to create, refine, and adapt our media for intelligent application within the metaverse.
Decentralization: The laws of governance shifting towards a user-centered and democratized environment.

Human Interface:

The hardware that allows us to access the metaverse itself - headsets, mobile devices, and handheld devices.

Infrastructure:

The connectivity, cloud computing, and networks that thread together the high levels of the metaverse.
Finding your organization's footing in the metaverse
The metaverse is still a growing platform, but many big names have already established their footprint in the digital world. From high-end clothing brands to food service, the metaverse has the potential for nearly every industry.
Being a part of the metaverse doesn't necessarily mean your organization will need to create your own universe, but having a presence on the platform is critical to building and nurturing interactive brand experiences. Before jumping into a full strategy, it's worth reviewing existing platforms and their general purposes:
How big brands are using the metaverse
Like snowflakes, every brand has its own unique metaverse strategy that enhances its customer experience, furthers its mission, and leaves a lasting impression on consumers. From NFTs to building their own world, we've created a list of inspirational leaders in the digital frontier:
Nike: Earlier in the year, Nike purchased RTFKT to bring their classic kicks to the metaverse in the form of Cyptokicks. With exclusive designs and rarities, followers of the brands can take their love to the next level with digital assets to accompany their favorite Nikes IRL.
Balenciaga: During Fall Fashion Week 2021, the fashion tians brought new apparel and digital items to the masses through their collaboration with Fortnite. With several exclusive item drops in-game, as well as physical purchases from the luxury brand, the Strange Times Hub met the runway.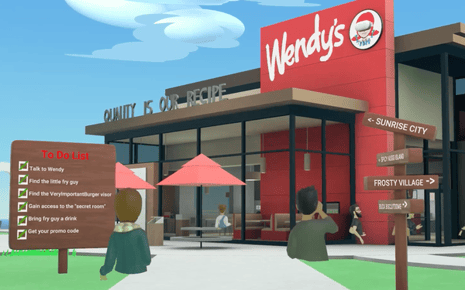 Wendy's: Baconator fans, rejoice - the Wendyverse (in Meta's Horizon Worlds) gives customers an opportunity to interact, engage, and save even more with the brand in their digital restaurant and world, including games and social events. The fast-food chain has also implemented special digital offers for Wendyverse visitors.
Starbucks: In early December, Starbucks joined the metaverse with the beta version of their own world, Starbucks Odyssey. According to the coffee chain, "Members can engage in Starbucks Odyssey 'journeys,' a series of activities, such as playing interactive games or taking on fun challenges to deepen their knowledge of coffee and Starbucks. Members will be rewarded for completing journeys with a digital collectible 'journey stamp' (NFT)." Join the waitlist here.

Hyundai: In early 2022, the automotive giants announced their plans for Metamobilty to fuse together the physical and digital worlds while giving users a deeper experience with the brand. According to the company's president, "The idea behind Metamobility is that space, time, and distance will all become irrelevant. By connecting robots to the metaverse, we will be able to move freely between both the real world and virtual reality." With this digital world, Hyundai states that its technology innovation allows cars to be transformed into entertainment spaces, meeting rooms, or gaming arenas. Since its introduction to the metaverse, the brand has gone on to create NFT droids and more for a fun and memorable experience for their customers, such as collaborations with Meta Kongz.
What does the metaverse hold for your company?
As an enterprise, the metaverse holds an incredible amount of potential for marketing, audience engagement, and brand loyalty. Just as social media allowed us to tap into our audience bases on a daily basis and drive promotions, engagement, and discover our audience's interests and values, the metaverse takes this information to a new level and allows us to capture data, communicate with our users, and more.
Crossing the chasm: breaking down technology adoption
Going beyond the technology adoption lifecycle process, Geoffrey Moore, author of Crossing the Chasm, explained the different groups that make up the categories of technology adopters in an enterprise solution. This goes beyond the traditional bell curve of innovation diffusion, originally created by sociologist Everett Rogers, and elaborates on the ideologies that the categories of the initial groups, as well as their role in technology adoption. In addition to these categories, Moore also denotes the importance of "crossing the chasm" - the barrier between the early market (Innovators/Tech Enthusiasts and Early Adopters/Visionaries )and the mainstream market.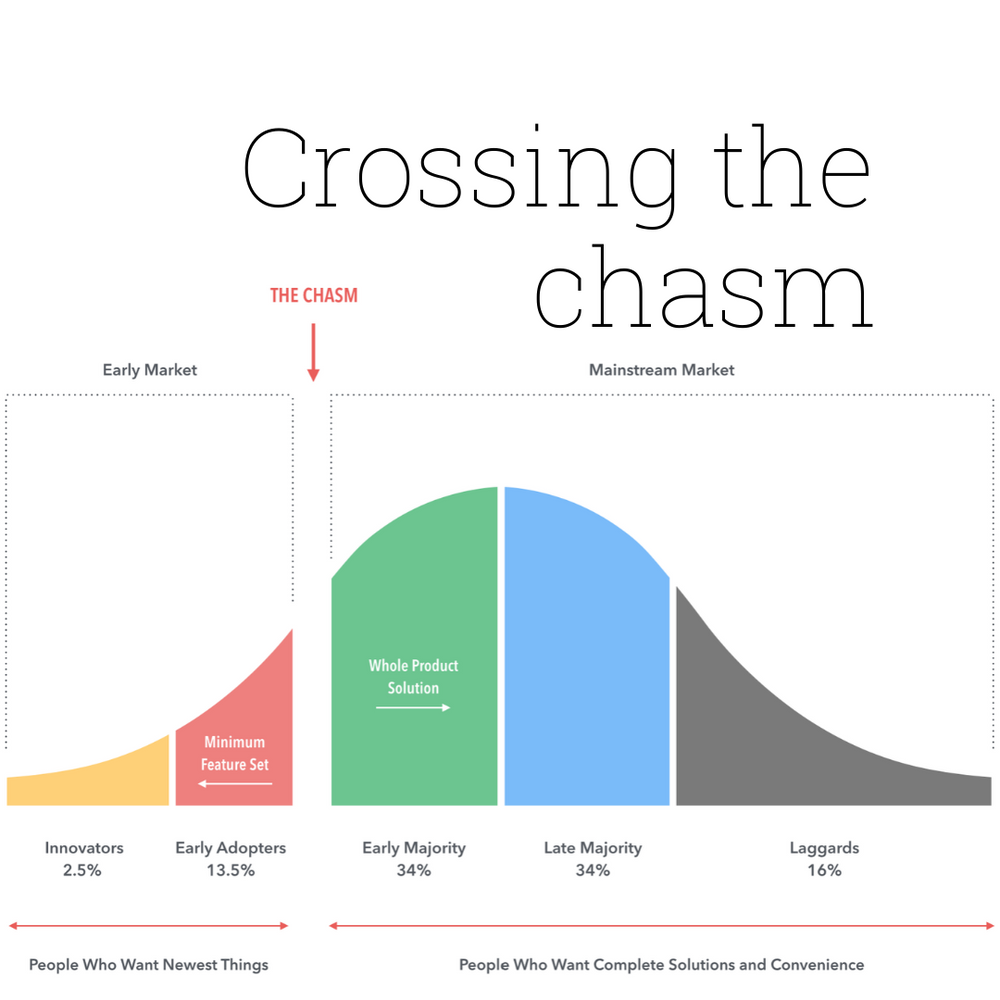 (Source: Manage Innovation)
Technology Enthusiasts: Innovators; Committed to unveiling new technology; believes that developments will have a profound impact on their life.
Visionaries: Early Adopters; invests and publicize innovations, leading to greater visibility.
Pragmatists: Early Majority; Do not believe in the glitz of new technology; believe that technology is evolutionary, rather than revolutionary.
Conservatives: Late Majority; often considered to be cynical of the value of new technology. Typically only adopts new technology and processes if under duress and fear of becoming a laggard.
Skeptics: Laggards; may not be considered customers of new technology.
No matter where you are in the adoption or consideration process, it's worth noting the unique insights and benefits that the digital frontier allows us to utilize for better customer insights, products, and communication channels.
Some of the most valuable benefits of joining the metaverse include:
Collecting advanced metrics on where your key audiences spend their time:

Virtual experiences allow us to understand even more about our users or visitors and how they interact with media and the digital world around them. Where traditional marketing focuses on passive engagement and interaction (consumption), immersive marketing in the metaverse allows us to see the actions that our visitors take, the duration of interactions, and ultimately, give you information on their active engagement and lead qualification status.

Leading the pack:

Joining the next wave of the internet signifies that your organization is committed to the future of the industry and establishing your brand as a forward-thinking leader. By being at the forefront of the digital universe, you'll be communicating the innovation and creativity needed to meet your customers where they are - and that you're accessible virtually anywhere.

Opportunities for additional sales with NFTs:

NFTs give brands the opportunity to connect their brand's values, and mission with creative and exclusive digital assets via blockchain. Using NFTs allows your company to track the monetary value, and thus, gain even more insights into the success of your metaverse endeavors. Companies can also team with popular and up-and-coming artists to create partnerships that launch both brands into new territories.

Giving your brand a visual concept:

This next level of the internet will have many benefits for both individuals and companies: better bandwidth, latency, graphics, and hardware start to take experiences from two-dimensional screens to more three-dimensional spatial computing, leveraging augmented and virtual reality. How we utilize these features ultimately can lead to breakthroughs and greater user engagement.

Creating unforgettable brand experiences:

Beyond consuming media, joining the metaverse and embracing interactivity in your brand creates a memorable opportunity (much like creating Meaningful, Memorable, and Motivational learning experiences!). We shouldn't take for granted the fact that these interactions allow us to solidify our brand and create unforgettable moments beyond our wildest dreams. How we craft these ideas are unique to our values and mission, but if done correctly, we can make an impact for years to come.
Where do we go from here?
Interested in learning more about how a metaverse strategy can help transform your brand and grow your digital footprint? Contact us to speak with one of our metaverse principal consultants to discover how your organization can be a leader in digital innovation and user adoption.